Midday meal cooks form body
Amritsar, February 13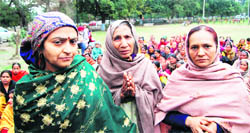 To protest against the laxity of the government, several midday meal cooks assembled at the Company Bagh, and formed a district-level body under the banner of the Midday Meal Workers Union, Punjab, today.

Midday meal cooks of various government schools of Punjab narrate their grievances, in Amritsar on Sunday. Photo: Vishal Kumar

Mann seeks Censor board to check quality of lyrics
Bathinda, February 13
Renowned Punjabi singer-cum-actor Harbhajan Mann today demanded that the government constitute a separate authority (Censor) to check the lyrics of songs.


(In front row from left) Deputy Chief Minister Sukhbir Singh Badal, SAD leader and Rajya Sabha member Balwinder Singh Bhunder, LBP leader Balwant Singh Ramoowalia, CPI leader Dr Joginder Dayal and singer Harbhajan Mann share the dais during an anti-drugs rally held at Natheha village in Bathinda district on Sunday. DIG (Ferozepur range) Harinder SIngh Chahal in whose honour the event was oraganised can be seen standing behind the Deputy CM. Photo by writer
Six hostels for girls to be upgraded
Abohar, February 13
Six girl hostels in the district will be upgraded during the coming financial year, said sources in the education department.
Govt fails to fulfil norms to get Centre's share
Ludhiana, February 13
Arrears for 7,000 lecturers working in government, aided and private colleges of the state are likely to get delayed further owing to failure of the Department of Higher Education in sending the requisite performa to avail 80 per cent share of the Centre in the arrears, which have been pending for the past 51 months.
Congman picked up by cops for possessing poppy husk, freed
Ferozepur, February 13
Bhajan Singh, a young boy of village Piarana of this district, associated with Congress party, whose engagement ceremony was to take place on Friday, had a different experience. A police party descended at his house in the wee hours.
Badal restores exemption from fund to basmati exports
Chandigarh, February 13
In a major relief to basmati rice exporters, CM Parkash Singh Badal today restored the exemption from payment of Rural Development Fund (RDF) on the export of basmati rice.
Collection of paintings, models a treat for art lovers
Abohar, February 13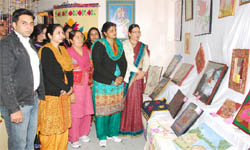 Oil, foil, screen, nib, fabric and emboss paintings besides ice stick models, dry flower arrangement, crochet work, collage, phulkari, sparkle pieces and best out of waste creations were displayed during an exhibition at the DAV College of Education here today.


Educationists have a look at the art exhibition in DAV College of Education, Abohar. Photo: Raj Sadosh

SBoP sports meet concludes
Bathinda, February 13
A two-day annual sports meet of the State Bank of Patiala (SBoP), Bathinda Zone, concluded here today. Following were the winners.
Purushartha is new DGSE
Chandigarh : The Punjab Government has transferred Krishan Kumar as Special Secretary (Department of Health and Family Welfare). In addition, he will also hold charge of Project Director (National Rural Health Mission).
Dhanak Samaj convention on Feb 20
Bathinda, February 13
The eighth delegate convention of the Punjab Pradesh Dhanak Samaj will be held on February 20 at the Dhanak Dharamshala, situated in Kanhaiya Nagar here.
Brick kiln worker ends life
Abohar, February 13
Frustrated over the raid by the Rajasthan police to recover the girl, whom he had fleeced, a brick kiln worker allegedly committed suicide near village Khippanwali of this area. His body was handed over to his relatives today. As per the details, Ramveer Singh of village Bicholia in Kanpur district of Uttar Pradesh had been working as daily wage earner at a brick kiln in Sriganganagar. He on February 5 allegedly fleeced the daughter of another worker. The parents of the girl had reported the matter to the Rajasthan police. — OC