Police-Public Mela gets good response
Jammu, February 13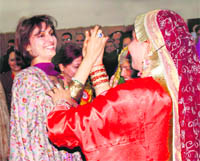 The annual Police-Public Mela organised by the J&K Police Wives' Welfare Association at the Gulshan Ground evoked a good response despite rain here today.The mela was inaugurated by Chief Minister Omar Abdullah, who was the chief guest,and his wife, Payal. The fair attracted a huge crowd.A group of dancers spotted Payal who was visiting a stall and invited her to join them.The Chief Minister's wife obliged them.

Payal Abdullah (L), wife of Chief Minister Omar Abdullah, dances with artists at a police-public mela in Jammu on Sunday. Photo: Inderjeet Singh

Langate MLA ridicules NC, PDP, separatists
Srinagar, February 13
Reacting to statements of the National Conference, the PDP and separatists, MLA, Langate, Engineer Rasheed today ridiculed them for making comparisons between occurrences in Egypt and Kashmir.
Army, KVIC hold awareness programme
Udhampur, February 13
The 71 Headquarters of the Army,in association with the Khadi Village Industries Corporation (KVIC), organised an awareness programme at the military station here.
New Vaishno Devi shrine track closed due to landslide
Jammu, February 13
The Adhkuwari-Himkoti-Bhawan track to the Vaishno Devi shrine was closed today following a landslide near Himkoti this evening.The police said three pilgrims who were injured in the incident were rushed to hospital.
Peace imperative for good tourist season: Jora
Srinagar, February 13
Tourism Minister Nawang Ringzin Jora has called for joint efforts by the government and stakeholders in the tourism industry for creating a congenial atmosphere to attract tourists to the Valley.
Sunday Theatre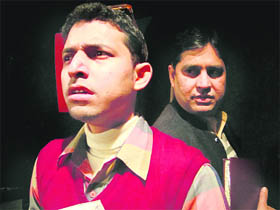 A scene from the play 'Diary Kuse Lok Naath Di' presented by Natrang in Jammu. Tribune photo
Army launches Operation Sadbhavna
Udhampur, February 13
Sky Archers launched Operation Sadbhavna at Battal Ballain village, about 35 km from here today, with the inauguration of a project comprising the construction of an additional classroom and the provision of furniture for students at Government Middle School, Ritti,by Brig Davis PP.
80 patients checked at medical camp
Jammu February 13
A medical camp for cancer patients being organised by the Jammu Yatri Bhawan Trust was inaugurated by Devinder Singh Rana, adviser to Chief Minister Omar Abdullah, here yesterday.
Mirwaiz hails change in Egypt
Srinagar, February 13
Welcoming the ouster of Hosni Mubarak in Egypt, the chairman of the moderate faction of the Hurriyat Conference, Mirwaiz Umar Farooq, today said it proved that the aspirations of the people could not be suppressed for long by the use of brute force.
Minister's guard held for eve-teasing
Jammu, February 13
A security guard deployed with a Minister of State was arrested on a charge of eve-teasing in Kathua district yesterday night. A police officer said the Special Police Officer (SPO), Ashok Kumar,who was deployed at the house of Minister of State for Cooperatives Manohar Lal was caught by local residents when he allegedly teased a girl under the influence of liquor last night at Dongada village in the district. Though the police did not disclose the name of the complainant, it confirmed that the SPO was arrested after receiving the complaint.
Siblings found abandoned at railway station
Jammu, February 13
Two minor siblings were found abandoned at Jammu Tawi Railway Station in early today, the police said.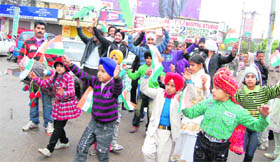 Young fans of Team India take out a procession in Jammu on Sunday. A Tribune photograph
Helpline Number 1098
Childline seeks more toll-free services
Jammu, February 13
The Childline, Jammu, has urged mobile phone service providers like Airtel, Aircel, Idea and Reliance to provide toll-free services on its helpline number 1098 on the pattern of the BSNL, Tata Indicom and Vodafone as part of their social corporate responsibility.
Kidnapped girl rescued
Jammu, February 13
The Nagrota police today rescued a 15-year-old girl, an NCC cadet, who was allegedly kidnapped by her instructor on February 2 from an NCC camp at Nagrota.