State RTI activists up in arms
Chandigarh, February 15
Following the retirement of the present Chief Information Commissioner at the end of the year, the state government must choose his successor from a panel as recommended in the RTI Act and not mechanically elevate a retiring bureaucrat to the position. Himachal Pradesh currently has one CIC and one Information Commissioner, both of whom are former bureaucrats.
RTE: Cabinet refers back draft rules
Dharamsala, February 15
The Himachal cabinet today back referred draft rules made by the education department to implement the Right to Education (RTE) in the state.
Doctors' residential complex inaugurated
Kangra, February 15
Chief Minister PK Dhumal dedicated the newly constructed residential complex named as Vivekananda Doctor's Residence to resident doctors of Dr Rajendra Prasad Government Medical College, Tanda, in Kangra this evening. The complex is constructed at a cost of Rs 9.5 crore.
Probe indicts Paonta unit for violating labour laws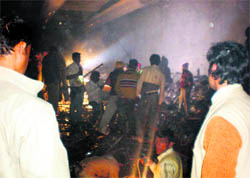 Solan, February 15
A probe has indicted the management of an industrial unit, Himalayan International Private Limited, based at the Gondpur area of Paonta Sahib for violating labour laws, the Labour Department has recommended its case for prosecution under the Factories Act, 1948.





The site of incident at Gondpur in Paonta Sahib. Photo by writer

CPM to hold protest against price rise today
Hamirpur, February 15
The district committee of the CPM has decided to hold a protest demonstration tomorrow against the rising prices of essential commodities at Hamirpur.
Two charred to death
Shimla, February 15
Two persons, including a driver, of the Himachal Roadways Transport Corporation (HRTC), were charred to death when the dhaba in which they were asleep was reduced to ashes last night. According to the police, a fire broke out in the dhaba in Rohru Bazaar last night. — TNS
2 die in mishap
Bilaspur, February 15
A 55 year old man, Chunka Ram and his three year old grandson, Shubham were killed here last night. Chunka Ram, of Bhghed village, was carrying his grandson on his shoulders, and he suddenly slipped from a high wall slope and fell several feet down.
Soldier cremated
Hamirpur, February 15
The mortal remains of soldier Jagdev Singh ( 25), who was killed in a landmine blast on Saturday in Nagaland, were consigned to flames in his ancestral Gabba village in Hamirpur district today with full military and civil honours.
Girl commits suicide
Shimla, February 15
An 18-year-old girl, Shalini, committed suicide by hanging herself at her house in the Kasumpti area of the town. It was in the morning that girl's family members found her body hanging in her room. Police said she had left behind a suicide note. — TNS