Eid mubarak
Devotees offer prayers on the eve of Eid-i-Milad-un-Nabi at the Hazratbal shrine in Srinagar on Tuesday. A Tribune photograph
Governor greets people on Eid-i-Milad
Jammu, February 15
The Governor, NN Vohra, has greeted the people on Eid-i-Milad-un-Nabi (SAW) and hoped that this auspicious occasion will be a harbinger of harmony, peace, progress and prosperity in the state.
Man dies in house collapse
Srinagar, February 15
One person was killed in a house collapse at Wadipora Chadoora in Budgam last night. A police spokesman said the house collapsed at Wadipora, Chadoora in Budgam due to heavy rain and snow, resulting in the death of Riyaz Ahmad Malik.
52-year-old man killed in mishap
Jammu, February 15
In an accident, a 52-year-old businessman was killed after a private school's vehicle hit his scooter in the Green Belt area here today. Pawan Jandyal, son of Nagar Mal, a resident of the Last Morh area, was going on his scooter when the vehicle hit his scooter.


Members of the Jammu Joint Students Federation hold a demonstration against the Controller of Jammu University for the delay in the declaration of an LLB semester examination in Jammu on Tuesday. Tribune photo: Anand Sharma
Man commits suicide
Jammu, February 15
A 28-year-old man allegedly committed suicide by hanging himself from a ceiling fan at his house at Anand Nagar in the Pouni Chak area here today.
Probe land grab by politicians, demands ex-minister
Jammu, February 15
Even as politicians, whose names have been doing the rounds for allegedly hobnobbing with the land mafia, have refuted reports in this regard, senior Congress leader and former minister Abdul Gani Vakil has demanded a high-level probe into the issue.
DGP honours martyrs' families
Jammu, February 15
DGP Kuldeep Khoda honoured the family members of jawans, who attained martyrdom while fighting militants, during a programme organised by the J&K Rural Sports Club at the Police Auditorium here today.
Army Chief on two-day visit to Northern Command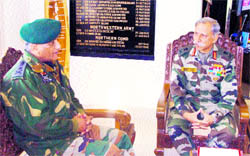 Udhampur, February 15
The Chief of the Army Staff, Gen VK Singh, arrived here today on a two-day visit to the Northern Command Headquarters.




Gen VK Singh, Chief of the Army Staff, discusses the security situation with Lt-Gen KT Parnaik, GOC-in-C, Northern Command, in Udhampur on Tuesday. A Tribune photograph
Article 370 responsible for rise in unemployment: BJP
Jammu, February 15
State BJP president Shamsher Singh Manhas said today that Article 370 had proved to be harmful after Independence. He said the special status had led to a rise in unemployment in the state. Manhas was addressing a public rally in the Pargwal area at Akhnoor today.
Special awareness camp on rural health
Udhampur, February 15
The Department of Health, Reasi today organised a one-day special awareness camp on rural health at Reasi town, which was inaugurated by the MLA, Reasi, Baldev Raj Sharma.
Inter-school Skills Festival
Jammu, February 15
Pranvi Gupta from St Mary's Presentation Convent Senior Secondary School, Gandhi Nagar, won the title in the city finals of "Kaho What's Your Idea", a national inter-school skills festival, for children of Jammu, conducted by Idea Cellular here today.