PUNJAB

HARYANA

JAMMU & KASHMIR

HIMACHAL

REGIONAL BRIEFS

NATION

OPINIONS

LETTERS

BUSINESS

SPORTS

WORLD

Every Wednesday & Saturday

Closing of abduction case
Rights panel seeks fresh probe
Jammu, February 15
In a hard-hitting indictment of the police over the missing case of two persons suspected to be murdered at Malikot village of Mahore tehsil in Reasi, the State Human Rights Commission has asked the DGP for a fresh inquiry.
A new weapon adds punch to CRPF armour
Jammu, February 15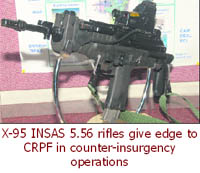 The CRPF has acquired X-95 INSAS 5.56 mm rifles to enable its men counter Pak-sponsored terrorism in Jammu and Kashmir effectively "The CRPF has acquired a new weapon, X-95 INSAS 5.56 mm rifle, for counter-insurgency operations in Jammu and Kashmir," a senior CRPF officer told The Tribune.
Countering anti-national campaign
Govt to use networking sites
Jammu, February 15
To counter the anti-national campaign by unscrupulous people or separatists on the internet, the state government has also decided to use social networking sites.
Army turns to locals for info on militants
February 12, 2011
Hi-tech gadgets to help curb ration pilferage
February 9, 2011
They approach their end sans medicare
February 2, 2011
Soz, Azad Cong factions to test strength
January 29, 2011
All eyes on Lal Chowk
January 26, 2011
PDP corners govt on price rise
January 22, 2011
Ration shortage hits rural populace
January 19, 2011
Labourers face harsh winter
January 15, 2011
Trauma centres planned along highways
January 12, 2011
Jammu shivers in winter chill
January 8, 2011
State police to bolster force
January 5, 2011