From a short story to the screenplay of a film
Ajay Ramola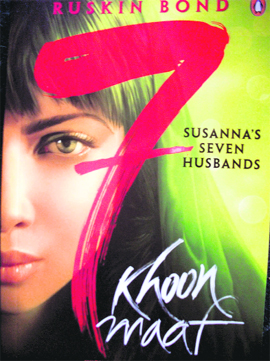 Mussoorie, February 16
The latest film, "7 Khoon Maaf", directed by Vishal Bhardwaj and based on a short story by eminent writer from Mussoorie Ruskin Bond is slated for worldwide screening on February 18. It has been converted into a novella for the first time in the history of Indian film making and hit the stands. Peculiarly, both the film and the book have not been released formally.
Ruskin Bond is elated with this development, and speaking exclusively to The Tribune elaborated in detail how his short story was converted into a film by director Vishal Bhardwaj.
"I first met Vishal when he bought the film rights to my story, 'The Blue Umbrella', which he made into a delightful film for moviegoers of all ages," said Ruskin Bond. He further said Vishal encouraged him to develop the short story "Susanna's Seven Husbands", on which the film "7 Khoon Maaf" is based, into a novella, creating new charactors and incidents. Vishal and Mathew Robbins based their screenplay on this version and the idea of publishing the novella, short story and screenplay together germinated, thus giving the reader an insight into the way a short story became a film story and screenplay.
Ravi Singh from Penguin India also encouraged him in this endeavour.
Apart from this, Ruskin was also involved with "7 Khoon Maaf" and Vishal persuaded him to play a part in the film, thus making him debut at the age of 76. Ruskin figures in brief scenes opposite the talented Priyanka Chopra.
Speaking on his role in the film, Ruskin said he enjoyed the experience of working with Priyanka and the entire unit on location in Pondicherry and Mumbai where they shot in a beautiful old church at Byculla.
Ruskin said, "All of Vishal films are unique in a way. I see him as the Hitchcock of Indian cinema, a master of the macabre. The film has all the ingredients needed for an invigorating cinematic experience with added sauce and spice and the book will also be a treat for the readers".
Vishal Bhardwaj mentions in the introduction of the book that after reading the short story by Ruskin Bond, titled "Susannah's Seven Husbands", he fell in love with Susannah's character that captivated his imagination. He was amazed at the whacky side of Ruskin Bond as a master story teller and his ability to sketch a character that was so interesting, wicked, but endearing at the same time.
Vishal, a few months later, called Ruskin and conveyed his desire to make a film on his short story, but only if he agreed to elaborate it into a novella. Each husband's character and the manner in which they were killed were very interesting and funny, but needed to be fleshed out further, he said.
Ruskin agreed to write a novella and began sending him chapters written in long hand and sealed in yellow envelopes with his address marked in the corner as Landour, Mussoorie.
It was after this that Vishal sat with his co-writer from San Francisco Mathew Robbins who had started his career with Steven Spielberg's first feature film "Sugar Land Express". They then went to Ooty and cracked the structure of the screenplay in nine days straight. Mathew wrote the first draft of the script, after which Vishal wrote the second draft. Then with their joint effort "7 Khoon Maaf" was born.
Another author from Mussoorie Ganesh Saili says it is great that the filmmaker and the author met in Mussoorie and the idea of the novella, screenplay and film took shape. Saili chuckles, "Ruskin suggests various ways in which a woman can finish her spouse. I am beginning to get worried!" Initially, the story was titled "The Merry Widow" by Ruskin Bond, but later was changed to "Susanna's Seven Husbands". It is indeed a moment of pride for all those who have made Mussoorie their home and look forward to seeing this film.