COLUMNS



THIS ABOVE ALL

TELEPROMPT

GOOD MOTORING

LIFE'S LESSONS

LEXICON

FOR CHILDREN



CROSSWORD

RHYME TIME
Earlier Feature


TELEVISTA


AUDIO SCAN
Switch off those violent scenes
Excessive violence on the television can develop the 'mean-world syndrome' in children, who start perceiving the world as a malicious and dangerous place, writes Nutan Sehgal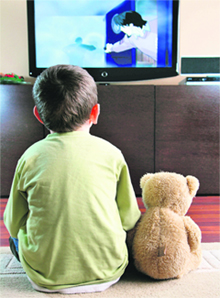 Despite the fact that considerable research is going into the issue of violence in films and television, hardly any concrete steps are being taken to contain it or draw up a code of conduct. Most parents think that children watch films and TV shows for fun. But little do they realise that many scenes may contain hidden messages of violence that can scar a young person's psyche. According to a new research published by the US National Institute of Neurological Disorders and Stroke in Bethesda, Maryland, violent images make teenagers more prone to aggressive behaviour. The study used 22 boys aged between 14 and 17 while they viewed four-second video clips of violent scenes taken from 60 different videos.
Sometimes the small screen becomes a kind of baby-sitter and replacement for parents. But parents must not let children watch excessive TV and should set a time limit.

'Playing 37-40 was difficult'
Priyanka Chopra, who dons a grey mantle for Vishal Bhardwaj's 7 Khoon Maaf, in conversation with Sreya Basu
You play wife to seven actors in 7 Khoon Maaf and there were quite a few intimate scenes with them. How comfortable were you shooting them?
Here we are talking about marriages and I don't know of any marriage without intimacy. And if you want to show love and pain, it comes with a lot of other emotions. There is never an isolated emotion of love or hatred or anger or intimacy. When you are showing a scene, I am an actor playing a particular character, I will go to the extent I am comfortable. This film is all about Vishal sir's (Bhardwaj) conception.
Time check
With new-age devices that double up as time keepers, the good old wristwatch is fast losing its charm
With cellphones, palmtops, e-readers, purses, bracelets, i-pods all flashing time of the day, who needs a plain old wristwatch. The ubiquitous wristwatch worn by the billionaire to the daily wager as more than an accessory is now being discarded for spanking new-age devices that double up as time keepers.
Stylish saris
Designers have given the sari modern interpretations to suit a young clientele, says Banalata Bipani
Designers are innovating the sari to make it more appealing to young clients. In an age where quick fixes are the way to go, it is not surprising to find people coming up with easier ways to complete tedious tasks. In case of the sari, upcoming and even established designers are giving the traditional garment more modern interpretations to suit a young clientele, which, they feel, will accept such change.