Young World
Fine arts students get innovative lessons
Tribune News Service
Jalandhar, February 24
The Department of Fine Arts of Apeejay College of Fine Arts organised a three-day long painting workshop for PG students on February 20 to 22. Baldev Gambhir, an internationally acclaimed artist, was the resource person. He taught various modern and innovative techniques to the students. The students worked in different mediums to create paintings on two to three canvases.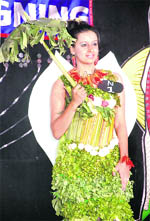 A student of the PCMSD College for Women walk the ramp during a fashion show in Jalandhar.
Seminar on RTE
A national seminar on "Right To Education (RTE): challenges & opportunities" was organised by DIPS College of Education, Dhilwan, Kapurthala on February 21 in collaboration with Council for Teacher Education (CTE).
Dr Kiran Bedi, the first woman IPS officer of India, in her keynote address, said it was a collective challenge and responsibility of parents and teachers to provide quality education to their children. She stressed upon the need of developing expressional abilities in the students and guide the teachers to become bold, sincere and hardworking.
As many as 60 delegates, 200 student teachers, 50 school principals and teachers participated in the seminar. While 20 delegates presented their papers.
While the plenary session was chaired by Dr K.M. Bhandarkar (the senator from Nagpur University & chief editor the CTE national journal from Gondia, Maharastra). He said there should be some psychological compulsions on village development societies like sarpanch & other members to ensure the enrolment & attendance of their village children in the school.
He said it was the first time in Indian history that equal opportunity to get education is being availed to the children of poor & down trodden communities.

(Above) Students of MGN Public School being crowned "Miss MGN" and "Mr MGN" at a farewell function in Jalandhar. (Below) Kiran Bedi releases a souvenir at a seminar at the DIPS College of Education, Dhilwan, in Kapurthala. Tribune photos
Paper presentation
The faculty members of the local CT institute of Hotel Management and Catering Technology, Jalandhar presented their research paper in the international conference organised by School of Hospitality & Tourism Management (SHTM), Faculty of management studies, University of Jammu, Jammu.
The theme of paper presentation was "Sustainable Destination Excellence: Innovations in Alternate Tourism" (SDEIAT-2011). Assistant Professors, Vineet Kumar Gupta and Rohit Sharma and HoD Hotel Management, Karnail Singh presented their joint research paper titled "A case study on dark tourism with special reference to Jallianwala Bagh massacre".
The study highlighted some of the key prospects and issues related with dark tourism sites across the world with special reference to Jallianwala Bagh, Amritsar. It was concluded that a visit to Jallianwala Bagh instills nationalism and has a huge potential to be developed as a dark tourism site.
The analysis of research further highlighted that Jallianwala Bagh has a lot of educational significance as well. While delegates from different countries like Singapore, Malaysia, Thailand, Nigeria, and United states also attended the conference and presented their research papers.
Chairman of CT Group, Charanjit Singh Channi appreciated the attempt of the faculty in digging out the glorious history of the Jallianwala Bagh and presenting them in a comprehensive manner through paper presentation.
Photo exhibition
The department of Punjabi of Kamla Nehru College for Women, Phagwara organised a photo exhibition in association with the Punjab Darshan Sabha. The exhibition was based on Punjabi culture and heritage and flaunted the Punjabi Lok Kala, historical places, buildings and landscapes. On this occasion, the works of Baljit Singh, President of Punjab Darshan Sabha was also put on show in the exhibition.
Training camp
The NCC cadets of the local Kanya Maha Vidyalaya attended the Annual Training Camp held at 19 Dogra Regiment, Jalandhar Cantt from February 7 to 16.
During the camp the cadets participated in various competitions and won positions. CPL Sandhya won the first prize in solo song and second prize in solo dance. KMV's group song was also declared first. S/VO Deepika Sharma won second prize in turnout, firing, essay writing and won a medal for participation in Table drill. She also won second prize in the Best cadet category during the camp. In the line layout competition KMV's cadets won 2nd prize. Principal Dr. Mrs. Atima Sharma congratulated the students on their brilliant performance.
Workshops
A UK delegation comprising three members --- Fay Rawcliffe, Anna Porter and Jonathan Sleep --- held two workshops at Police DAV Public School and Cambridge International School, Jalandhar, on February 22 under UK-India Education Research Initiative.
At Police DAV Public School, the workshop was attended by approximately 40 teachers of both Police DAV and Cambridge School. The workshop was on Letters and Sounds as they are taught at Garren School, UK. The delegates informed about phonics, phonemes and graphemes and how they are taught in a graded pattern from age 4 to 5 in the UK, their reception and enunciation. In the interactive session, the foreign visitors expressed their joy at the receptive and learning aptitude of the teachers.
MGN Public School, Kapurthala, organised a workshop for teachers on February 21. The Principals of reputed schools of Roseland, UK, Julie Elvy and Jonathan Sleep were the resource persons. The workshop focused on the topics "Teaching of Phonics" and "Access to Curriculum - Different Teaching Methods" Twenty teachers from MGN, Adarsh Nagar, Jalandhar and Kapurthala attended the workshop. A healthy discussion and fruitful interaction was held during the session.
Sports day
Mayor World School, Urban Estate, organised sports day in the primary section of school. The day-long event was presided over by the school Principal Neeraj Bhargava. The parents of the children were invited to witness the various sports events. In 100-metre race, Jai Sood, Navjot and Rajat got the medals among boys. Preneet, Arman and Charanjit were the medal winners among girls. In 200-metre race, Gautam, Dhruv and Rajat stood first, second and third among boys. Preneet, Arman and Charanjit again won the medals among girls.