PUNJAB

HARYANA

JAMMU & KASHMIR

HIMACHAL

REGIONAL BRIEFS

NATION

OPINIONS

LETTERS

BUSINESS

SPORTS

WORLD

Every Wednesday & Saturday

Water Issues
Pak outcry part of anti-India campaign
Jammu, February 25
The recent visit of a three-member Pakistani delegation to see whether India has violated the Indus Water Treaty of 1960 in the proposed project of an artificial lake in the Tawi is seen as a move of the neighbouring country to step up its vicious anti-India propaganda on water issues in the international forum.
Govt fails to cash in on winter tourism
Gulmarg, February 25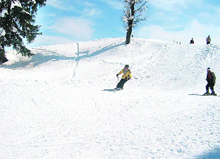 Even as the fresh spell of snowfall in the Kashmir Valley has revived the hopes of the tourism industry, the state has so far failed to encash winter tourism. The two-day snow festival held at Gulmarg turned out to be a damp squib as not many tourists turned out this year to participate in the event.
Ration scarcity stares Jammu residents in the face
February 23, 2011
Omar orders high-level probe
February 19, 2011
Rights panel seeks fresh probe
February 16, 2011
Army turns to locals for info on militants
February 12, 2011
Hi-tech gadgets to help curb ration pilferage
February 9, 2011
They approach their end sans medicare
February 2, 2011
Soz, Azad Cong factions to test strength
January 29, 2011
All eyes on Lal Chowk
January 26, 2011
PDP corners govt on price rise
January 22, 2011
Ration shortage hits rural populace
January 19, 2011