Education spending short of expectations
Allocations for school and higher education up but just not enough; Rs 22,000 crore less than what was sought
Aditi Tandon
Tribune News Service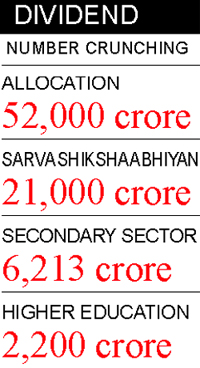 New Delhi, February 28
Union Human Resource Development Ministry's ambitious reform agenda is unlikely to benefit from the allocation today's Union Budget has made for the education sector.
While stressing the need to capitalise on the demographic dividend — 70 per cent Indians will be of working age by 2025 — Finance Minister Pranab Mukherjee today said he was allocating to education 24 per cent more than what was given to the sector in 2010-11. "I propose Rs 52,057 crore, which is an increase of 24 per cent over the current year," he said.
In effect, this increase means little as it is 0.57 per cent of the projected GDP for the next financial year. Moreover, it is about Rs 22,000 crore less than what the HRD Ministry's had demanded. The demand made was Rs 74,000 crore, of which Rs 52,000 crore was sought for school education to implement the Right to Education Act. The Sarva Shiksha Abhiyan has got just Rs 21,000 crore today.
Though the total school education budget of Rs 38,597 crore is 74 per cent of the entire education allocation, it is not enough. Ministry sources said it would have to be revisited as the RTE Act was now a justiciable right. Even on the secondary education side, where Rs 6,213 crore was allocated, the money is meagre.
Higher education has received Rs 13,013 crore as against Rs 11,000 crore in the current year. Here, the Ministry's demand of Rs 22,000 crore was turned down. The low allocation would affect the plans to bring in vocational educational framework.
In higher education sector, 46 per cent of the budget (Rs 5,660 crore) has been earmarked for technical education.
INNOVATION GRANTS FOR POLL-BOUND STATES
The FM announced special grants for certain select institutes. Almost all of them are located in the poll-bound states of West Bengal, Kerala, Tamil Nadu and UP. Here is a lowdown on which institute got what — Rs 50 crore for the upcoming centres of Aligarh Muslim University in West Bengal and Malappuramm, Kerala; Rs 100 crore one-time grant for Kerala Veterinary and Animal Sciences University, Pookode; Rs 10 crore each for setting up Kolkata and Allahbad centres of Mahatma Gandhi Antarrashtriya Vishwavidyalaya Wardha; Rs 200 crore one time grant for IIT Kharagpur, West Bengal; Rs 20 crore for Rajiv Gandhi Institute of Youth Development, Sriperumbudur, Tamil Nadu; Rs 20 crore for IIM Kolkata and Rs 10 crore for Madras School of Economics.