Durgiana Temple Management Committee moves against political interference
Amritsar, March 1
No member of a political party would now be the office-bearer of the Durgiana Temple Management Committee as per the new amendments made in its constitution. The amendments were passed during the general house meeting of the temple held here today.


| | |
| --- | --- |
| | The Durgiana Temple stands illuminated on the eve of Mahashivratri in Amritsar on Tuesday. Photo: Vishal Kumar |
Veteran players fume over Amritsar getting raw treatment
Amritsar, March 1
Veteran players and sports enthusiasts are irked with the government over the omission of Amritsar as a venue for the seven-day Shaheed-e-Azam Bhagat Singh Punjab Games, which kicked off at four districts in the state.
Employees in far-flung areas demand conveyance allowance
Amritsar, March 1
The employees working in far-flung areas of the border under the banner of Border Area Employees' Struggle Committee today demanded conveyance allowance of Rs 1,000 besides revision of border area allowance as per the new pay scales.
To end traffic blues, new bypass route conceptualised
Amritsar, March 1
Much to the relief for those who frequently commute between Pathankot and Amritsar, the new bypass route has been conceptualised. Known as the Verka Bypass, this project will be completed by May 2011, said Kahan Singh Pannu, Deputy Commissioner, Amritsar, and S.R. Tholia, Project Director, National Highway Authority, after a joint inspection of the site here.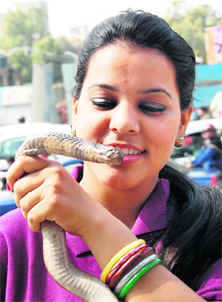 A girl plays the role of a snake charmer during a promotional event in Amritsar. Photo: Vishal Kumar

Research must be for benefit of general masses: Nobel laureate
Amritsar, March 1
Guru Nanak Dev University organised a general public lecture by Prof Richard R Ernst, Nobel Laureate, ETH, Zurich, Switzerland, on 'Enabling a Beneficial Future For Our Descendants. What Can We Do, and What Shall We Not Do?' at the Dasmesh Auditorium of the university.
'Trauma centres should be equipped with plastic surgeons'
Amritsar, March 1
The trauma centres in every government or private hospital in the country must have plastic surgeons in the team of specialist doctors as they have a major role to play in the rejoining or reconstruction of the injured and chopped limbs during these accidents. Pointing this out, Dr S Raja Sabapathy, president of the Association of Plastic Surgeons (APS), India, said, "In every six minutes one person loses his life in road mishaps in India while the number of injured persons in these mishaps is much higher who sometimes lost their limbs in these accidents. Hence, along with other organ specific specialists, the role of plastic surgeons has increased who can make a huge difference in the outcome."
Emerging Life Sciences Block to come up at GND varsity
Amritsar, March 1
Nobel laureate Prof Richard R. Ernst from Swiss Federal Institute of Technology, Zurich, Switzerland, laid the foundation stone of the Emerging Life Sciences Block of the Guru Nanak Dev University here today. This building is located near the heritage centre of the university.
IAFA holds cultural programme
Amritsar, March 1
Local artistes showcased their talent in music, dance, mime, poetry and other creative skills at a cultural programme held at the Indian Academy of Fine Arts (IAFA) here today.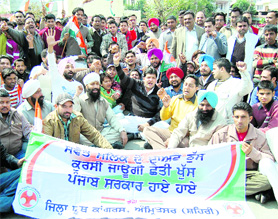 Youth Congress activists gherao Mayor's residence
Amritsar, March 1
District Youth Congress (Urban), led by its president Dinesh Bassi today gheraoed the residence of Mayor Shwet Malik. They were protesting against his failure to provide details regarding Rs 526 crore development works which he claimed to have carried out in the district.
Activists of the District Youth Congress hold a protest outside the Mayor's house in Amritsar on Tuesday. Photo: Vishal Kumar

MGNREGS workers allege lapses, stage dharna
Tarn Taran, March 1
Hundreds of job cardholders of MGNREGS, under the banner of Socio-Economics Development Programme (SEDP) and Awaz-e-Awam, organised a dharna here today protesting against lapses.