Demanding their rights


Unemployed agriculture technocrats scuffle with the police in Jammu on Thursday. Tribune photo: Anand Sharma
Won't accept Madni's resignation, says Speaker
Jammu, March 10
Even as Deputy Speaker Sartaj Madni is adamant on his decision to resign from the post of the Deputy Speaker of the Legislative Assembly, Speaker Mohammad Akbar Lone made it clear today that he would not accept Madni's resignation at any cost. "As long as I am the Speaker of the Assembly, I will not accept the resignation of the Deputy Speaker," Lone told the House when PDP legislator AR Veeri asked for a seat for Madni as a member in the Assembly.
Charak plays down factionalism in Punjab Congress
Jammu, March 10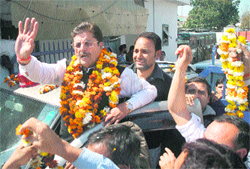 GS Charak, the newly-appointed in charge of Punjab, Chandigarh and Bihar affairs of the Congress, said today that he would strive for empowering the grass-roots party workers, right from the polling booth to the highest level.




GS Charak waves at party workers outside the Jammu Airport on Thursday. Tribune photo: Inderjeet Singh
Members condemn derogatory remarks against last Dogra ruler
Jammu, March 10
The passing of derogatory remarks against the last ruler of the erstwhile Dogra dynasty, Maharaja Hari Singh, by the National Conference member Mustafa Kamal created furore in the House. The Panthers Party MLA Balwant Singh Mankotia clashed with Kamal for passing such remarks against the last Dogra ruler.
Spread of Yellow Rust
AIR roped in to help farmers save wheat crop
Jammu, March 10
Alarmed by yellow rust affecting the wheat crop, the Union Ministry for Agriculture has approached All India Radio (AIR) to educate farmers of the region about preventive measures to save their produce.
IAF airlifts 662 stranded passengers
Srinagar, March 10
As many as 662 stranded passengers have been airlifted between Srinagar and Leh and Kupwara and Tangdhar in IAF aircraft, while a serious patient has been airlifted from a remote village in the Zanaskar area to Leh in an Air Force Cheetah helicopter.
Jaish chief commander shot dead
Srinagar, March 10
Two foreign militants of the Jaish-e-Mohammad (JeM), including its chief commander, were killed in a brief encounter with the police on the Fore Shore road near Hazratbal on the outskirts of the city today. The slain militants have been identified as Sajad Afghani, alias Qari Hamaad, and his accomplice Omar Bilal. Two policemen were injured in the encounter while a woman in the nearby Habbak area was injured by a stray bullet.
Follow teachings of Ramakrishna, says Governor
Jammu, March 10
Governor NN Vohra said yesterday that the teachings of Sufi saints and other spiritual personalities had influenced the humankind since times immemorial and called for reviving their teachings for establishing a more harmonious society.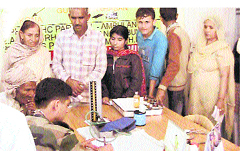 2,200 attend Army medical camp
Jammu, March 10
A two-day medical camp organised by the Chicken Neck Brigade of the Army under the Operation Sadbhavana at Pargwal concluded here today. As many as 2,200 persons from 44 villages of the Pargwal sub-sector visited the camp.
An Army doctor examines villagers at a medical camp at Pargwal near Jammu on Thursday. A Tribune photograph
Lt-Gen Parnaik on Ladakh visit

Srinagar, March 10
Lt-Gen KT Parnaik, General Officer Commanding-in-Chief, Northern Command, visited Ladakh, including Siachen Glacier, today. He is on a three-day visit to the region that began yesterday. A spokesman for the Ministry of Defence, Lt-Col Rajesh Kalia, said Lt-Gen Parnaik was received by Major General RK Yadav, officiating General Officer Commanding, Fire and Fury Corps.
Lt-Gen KT Parnaik
Honour killing suspected behind youth's death
Jammu, March 10
The alleged suicide by a 22-year-old youth, Sohan Lal, who was found hanging from a tree at Tutrein village, near Meeran Sahib, yesterday, is suspected to be a case of honour killing. The family of the youth alleged that he was punished as his brother had eloped with a girl of another caste of the same village.