Prayers for tsunami victims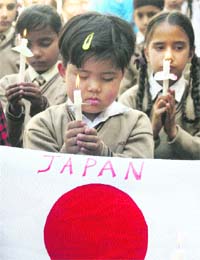 Students of Future Pack Higher Secondary School, Jammu, on Monday hold prayers for the victims of tsunami in Japan. Photo: Inderjeet Singh
Budget Discussion
Govt wrongly taking credit for projects: Murtaza
Jammu, March 14
Referring to some errors in the Economic Survey Report 2010-11, the Leader of the PDP in the Legislative Council, Murtaza Ahmad Khan, while speaking during the Budget discussion in the House here today, took Finance Minister Abdul Rahim Rather to task over various issues.
Bill to reduce fiscal deficit to 3 pc tabled
Jammu, March 14
Keeping in view the preconditions set by the Finance Commission for special financial grants, the state government introduced a Bill on fiscal responsibility and budget management in the Legislative Assembly today to reduce fiscal deficit from present 5.9 per cent to 3 per cent by the financial year 2014-15.
Panchayat poll from April 13
Jammu, March 14
After a decade, the state will go to panchayat polls from April 13 in 16 phases for 4,130 constituencies of sarpanch and 29,719 constituencies of panch divided into 143 blocks. The last panchayat elections were held in year 2001. A total of 50,68,975 electors as compared to 38,02,302 electors in 2001, would exercise their right to franchise.
Implementation of RTI Act
No allocation in Budget disappoints activists
Jammu, March 14
RTI activists in the state have criticised the coalition government and Finance Minister Abdul Rahim Rather for making no budgetary provision for the implementation of the Jammu and Kashmir Right to Information (RTI) Act.


Erring bikers made to attend session on safe driving
Jammu, March 14
Neither they were fined nor booked under the Motor Vehicles Act. Many bikers simply revisited schooldays at Bishnah police station here today after they were caught violating traffic rules. They were made to sit comfortably at the police station and listen to "resource persons" for at least six hours.
SP, Headquarters, Shailender Singh delivers a lecture to traffic violators in Jammu on Monday. Tribune photo: Anand Sharma
State to build remaining part of Ravi-Tawi canal
Jammu, March 14
As Punjab has backtracked on agreement signed with Jammu and Kashmir on the Ranjit Sagar Dam, the state government has decided to construct the remaining portion of the Ravi-Tawi canal on its own to get its share of water from the Ravi.
Foundation stone of model village laid
Jammu, March 14
Deputy Chief Minister Tara Chand in the presence of Minister for Rural Development, Law and parliamentary Affairs Ali Mohammad Sagar yesterday laid the foundation stone for the development of the Pargwal border area in the Khor block, as a cluster model village.
Govt to frame youth policy: Chib
Jammu, March 14
Minister for Technical Education, Youth Services and Sports RS Chib today informed the Legislative Council that the Youth Services Department was contemplating to prepare a state-specific youth policy and vision document.
Students' problems discussed
Jammu, March 14
The J&K Students' Federation held a meeting yesterday to take stock of the prevailing academic scenario and various problems confronting students across the state.
Student crushed to death
Jammu, March 14
A speeding matador mowed down a six-year-old student of KC Gurukul School when he was crossing the road along with his grandfather while returning from school this afternoon.
Cop shoots wife in Ganderbal
Srinagar, March 14
The police arrested a Sub-Inspector of the police, who allegedly shot at and critically injured his wife in Ganderbal district today.