Trust vote on Indo-US nuclear deal in Parliament
Mann's son, aide affirm bribe offer
Chander Parkash
Tribune News Service
Ferozepur, March 18
The members of the crisis management group of the Congress-led UPA-I government, allegedly offered a bribe of Rs 50 crores and party ticket from the Ferozepur Lok Sabha constituency to late Akali MP Zora Singh Mann, who remained three-time MP from Ferozepur, to secure victory in the trust vote over the Indo-US nuclear deal in Parliament in 2008.
This startling disclosure was made by Bachitter Singh, personal secretary and Vardev Singh Mann, member, SGPC and son of former MP Zora Singh Mann, here today. Both Bachitter and Vardev knew minute details of the attempts, which were made by the UPA crisis managers to make Zora Singh Mann either vote in its favour or abstain from voting in lieu of a consideration.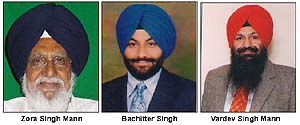 Talking to TNS, they said when Mann did not accept their offer, the crisis managers made an attempt to exploit his religious sentiments by saying that as Manmohan Singh was the Prime Minister of the country, it was the duty of every Sikh to save his chair.
"On July 21, 2008, when Mann was inside Parliament House, one Bhupinder Singh from England started making calls from his cell phone 00447809542816 to Mann whose number was 09868180862 and it was in my hand at that time," claimed Bachitter.
"When I attended the call, Bhupinder asked me that he wanted to talk to Mann in connection with a message from atop the VVVIP of the country. When I told him that Mann was inside the house and could be contacted after sometime, he kept making calls at regular intervals," he added.
"On the fifth call, Bhupinder told me that a person named Bhatia was standing outside at the reception of the Parliament House and asked me to meet him immediately. When I went to the reception centre, Bhatia talked to me and sought an appointment with Mann," Bachitter said.
"However, I told Bhatia that the MP cannot meet him as Mann was to attend a dinner on July 21, 2008. However, when we came back around 9 pm, Bhatia along with four others was standing outside Mann's official residence at Meena Bagh in Delhi. They had come in a white colour Range Rover vehicle, whose registration number was from Punjab," he added.
"Mann talked to Bhatia in the room where the telephone operator was sitting. After some time, I saw Mann was trying to get rid of Bhatia in an angry mood. When we approached them, Bhatia was insisting that Mann must go along with him to the house of a VVVIP, who was in crisis. They were offering Rs 50 crores as bribe money and the Congress ticket from Ferozepur," Bachitter said.
However, Mann asked them to leave his house. While, Bhatia was leaving, he increased the amount of bribe money and offered Rs 100 crores for favouring the UPA-I government. Next day, Mann went to Parliament and voted against the confidence motion moved on the Indo-US nuclear deal.
Vardev Mann said Mann shared everything with him in connection with offers made to him for saving the UPA-I government immediately after the incident took place.
He said an inquiry by the independent agency could prove the fact that the Congress crisis manager offered bribe to MPs of various parties to save the UPA-I government from collapsing.