Safai karamcharis may call off stir today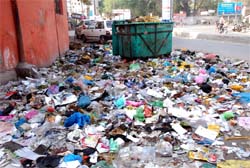 Bathinda, March 16
If all goes well, the overflowing garbage containers and filth scattered all around emanating foul stench — a major threat to the health of the people — will be cleared on Thursday, as the state government has reportedly negotiated with the safai karamchari over their demands, today.
Garbage has piled up in the city due to the strike by sweepers posing health hazards to the people. A Tribune photograph
MC chief apprises CM of worsening condition
Abohar, March 16
While apprising Chief Minister Parkash Singh Badal and Local Bodies Minister Manoranjan Kalia of the dismal condition of the water supply and sewerage system, Shiv Raj Goyal, president of the local Municipal Council, has sought immediate relief measures. He belongs to the ruling partner BJP.
SBI, city NGO hold blood donation camp

Bathinda, March 16
Twenty-six units of blood were collected at a blood donation camp held at Goodwill centre, Paras Ram Nagar chowk, here today. The camp was organized by the Goodwill Society in association with the State Bank of India (SBI).
Sarpanch booked for embezzling public funds
Pension scam surfaces in Ferozepur village
Ferozepur, March 16
Yet another pension scam has surfaced at village Chok Hari Har of the district due to consistent efforts made by one of its residents, who fought a relentless battle against the misdeeds of its sarpanch Beant Singh, for the past many months.
Delhi-Sriganganagar AC Express
Train to stop at Abohar from April 1
Abohar, March 16
The Railway Board has notified that the 12455/12456 Delhi (Sarai Rohilla)-Sriganganagar tri-weekly AC Superfast Express, providing a convenient overnight service between Delhi and Sriganganagar, will have stoppage at Abohar from April 1 onwards.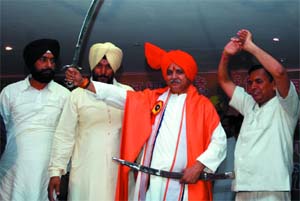 International general secretary of the Vishwa Hindu Parishad Dr Pravin Togadia at a function held in Bathinda on Wednesday. Tribune photo: Pawan Sharma
Holi Milan to be held for rural women
Abohar, March 16
Thousands of women in the rural areas are expected to participate in the Holi Milan functions being sponsored for the first time by the Punjab State Social Welfare Board in different towns. The functions are to be organised by the respective Child Development Project offices.
Fazilka social worker awarded for services
Fazilka, March 16
Dr Uma Sharma, a resident of Fazilka, has been bestowed with the Kesri Woman Award on the International Women's Day at a programme in New Delhi. She was the only woman from Punjab amongst 48 women selected from all over country out of the 80,263 entries.
Small traders for lump sum tax structure
Fazilka, March 16
Lump sum tax structure for small traders should be introduced by the state government to save them from exploitation at the hands of the Sales Tax Department officials, demanded representatives of the Beopar Mandal (Fazilka) in a meeting held with vice-chairman, Small Traders Board, DP Chandan at the local PWD Rest House yesterday
Mid-day meal samples collected in Bathinda
Bathinda, March 16
The district health authorities today collected three samples of the mid-day meal material from the government primary school of Gumti Kalan village in Bhagta block of the district.
BDA holds draw of lots for plots
Bathinda, March 16
The Bathinda Development Authority (BDA) today held a draw of lots for plots measuring 100 square yards in the under-developed BDA enclave also called phase IV and V of the Urban Estate.
Youth rally against drug addiction
Ferozepur, March 16
Thousands of youths of this district led by Vikramjit Gakhar, son of a senior police functionary of the Punjab police, organised a rally at the local grain market to initiate a movement against drug addiction in the state.
Abohar youth among BSF men killed in Assam
Abohar, March 16
Vijay Kumar Mahar of village Dharampura in this sub-division was among the eight personnel of the Border Security Force (BSF), who were killed in an ambush by a faction of the National Democratic Front of Bodoland in the Assam's Kokrajhar district on Monday.