ART & LITERATURE

'ART & SOUL
ENTERTAINMENT

TELEVISION

GARDEN LIFE

NATURE

FOOD TALK

CONSUMER, BEWARE!

FASHION

GLOBOSCOPE

BRIDGE

ULTA-PULTA
EARLIER FEATURE

TRAVEL

RELATIONSHIPS

DREAM THEME

TIME OFF
Lost romance
The Faiz centenary is now creating a buzz as did the Majaz centennial but with the era of rapturous poetry in Urdu long gone, this becomes more an act of nostalgia rather than revival, writes Nirupama Dutt

Nahin khel, ai Dagh, yaaron se keh do Ke aati hai Urdu zabaan, aate aate — Dagh
(It is not child's play, O' Dagh, tell my friends
It takes a long time to learn the Urdu language)
L

OVERS

of Urdu got together last year in different cities of the country to celebrate the centenary of Lucknow's best-loved poet Asrar-ul-Haq Majaz and the admirers of one of the greats of Urdu poetry, Faiz Ahmad Faiz, are busy all over the world celebrating his centenary.



In the times of Munni or Sheela, the age of ghazals in Hindi cinema, as symbolised by Pakeezah (left)
or Umrao Jaan, is long over

Rebel artist
Innovative and unpredictable, Baniprosonno's work is capable of many interpretations, writes Shakti Singh Chandel
AT the turning point of Indian history, in 1947, a number of communist groups emerged in the cultural arena of India. Along with theatre professionals and writers were the visual artists, who joined together under the banner of Progressive Artists' Group.
Amoebae, too, pack a lunch
SOME amoebae do exactly what we do before we travel — pack a lunch. The study, conducted by evolutionary biologists Joan Strassmann and David Queller of Rice University, has shown that long-studied social amoebae dictyostellum discoideum (commonly known as slime molds) increase their odds of survival through a rudimentary form of agriculture.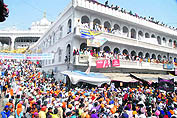 Faith and Fortitude
Colours of Hola
THE hills of Anandpur Sahib come alive every year for the Hola Mohalla festival, which is a heady mix of history, heritage, popularity, and celebration. Hundreds of thousands of people come to the city where Guru Gobind Singh first held a festival in which warriors would participate and demonstrate their skill.
The Jungle Book setting
The description of its natural wealth and richness occurs even in Ain-i-Akbari.
It is also the muse for Rudyard Kipling's famous book. The Pench forest reserve is a heaven for both animal and bird lovers, write Hugh and Colleen Gantzer
THIS in one place where our national animal seems to be reasserting its right to live. At six o'clock in the morning we were in the The Indira Priyadarshini National Park in Madhya Pradesh's Pench.


Art attack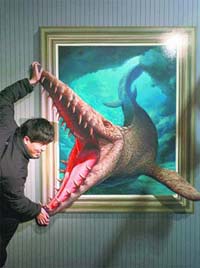 A man takes a picture with a painting during an exhibition by the Trick Art Museum of Japan at the National Taiwan Science Education Centre in Taipei recently. The paintings in the exhibition induced a 3D optical illusion when a subject took a picture with it. Photo: Reuters
Dancing diva
The acting and dancing icon of India, Madhuri Dixit, in conversation with Jyothi Venkatesh on her recent tryst as a judge on the dance reality show Jhalak Dikhla Jaa and much more....
AT the outset, Madhuri Dixit confesses that she was thrilled when Sony's representatives approached her with an offer to be one of the judges in Jhalak Dikhla Jaa.
Language of light
A retrospective of films by Subrata Mitra, who is often considered one of the greatest of Indian cinematographers, was held in Italy recently. Vandana Shukla reports
TWO highly gifted technicians, who turned their technical skills into a fine art without any formal training, find themselves at a strange confluence. In 1950, the great Jean Renoir had come to Calcutta to shoot The River when Subrata Mitra (1930-2001) could barely manage to get permission to watch the shooting.
Debonair Navin
Devinder Bir Kaur pays a tribute to the talented actor Navin Nischol, who died last week
THe suave Navin Nischol's dreamy eyes sent female fans in raptures. The man, who gave us "pachasi jhatke", was poised to be a superstar. Alas! Destiny willed otherwise. From a leading actor, he became a character actor.