Census 2011

Districts with low literacy rate show higher sex ratio
Clearly, gender bias can't be tamed with literacy alone; government needs to do more
Yoginder Gupta
Tribune News Service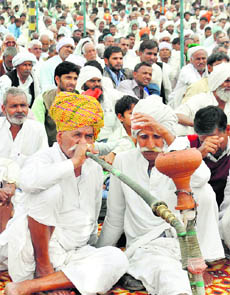 Chandigarh, April 5
The latest census figures for Haryana has shocked sociologists. The figures, released by the Director of Census Operations, Neerja Sekhar, here today show that there is no connect between literacy and gender bias.
The districts with low literacy rate have a higher sex ratio. Mewat, considered to be the most backward area in the state, has the lowest literacy rate of 56.1 per cent but the best sex ratio of 906 women per 1000 men. Even the child sex ratio (0-6 year age group) is the highest in Mewat. It stands at 903.
Similarly, Fatehabad, which comes second on the bottom with a literacy rate of 69.1 per cent, has the sex ratio of 903, which is 50 points higher than that of Gurgaon, which has the highest literacy rate of 84.4 per cent. Even Palwal, which ranks third from the bottom in literacy with a rate of 70.3 per cent, scores over Gurgaon in sex ratio by 26 points.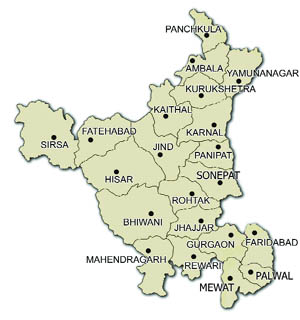 When it comes to child sex ratio, the so-called illiterate districts score over the so-called literate ones. While Mewat, the least literate district, has a child sex ratio of 903, this ratio in Gurgaon is 826.
It is surprising that Rewari, which has a sex ratio of 898, that is 21 points higher than the state average of 877, lags behind in child sex ratio. Against the state average of 830, in Rewari the child sex ratio is just 784.
Jhajjar, the worst district in the country with a child sex ratio of just 774, has a general sex ratio higher than that in Gurgaon. While Jhajjar has a sex ratio of 898, Gurgaon has 853. Even Mahendragarh, the second worst district in the county for its child sex ratio, has a general sex ratio (894) higher than that of Gurgaon.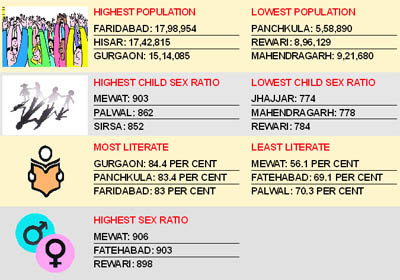 Sekhar said Haryana had recorded a decadal population growth of 19.90 per cent during 2001-2011 as compared to 28.43 per cent in the previous decade of 1991-2001. The state's total population now stood at over 2.53 crore. The number of men had increased from 1,13,63,953 in 2001 to 1,35,05,130 in 2011. Similarly, the number of women had shot up from 97,80,611 to 1,18,47,951 in 2011.
She said the sex ratio in the state had increased by 16 points from 861 in 2001 to 877 now. This was the highest sex ratio in Haryana since 1901. The sex ratio in the age group of 0 to six years had been recorded as 830 as compared to 819 in 2001, thus making a net gain of 11 points.
Barring Mewat, all other 20 districts of Haryana had a child sex ratio below 880. . Kurukshetra had reported the highest improvement in the child sex ratio with an increase from 771 in 2001 to 817 in 2011 followed by Sirsa where it improved from 817 in 2001 to 852 in 2011.
The state's literacy rate had increased from 67.91 in 2001 to 76.64 in 2011 with the percentage of literate males increasing from 78.49 to 85.38 per cent and that of females from 55.73 to 66.77. The maximum female literacy had been recorded in Gurgaon district, which was 77.64 per cent and the lowest in Mewat district, which stood at 37.58 per cent in 2011. The share of Haryana's population in country's total population had increased from 2.06 per cent in 2001 to 2.09 per cent in 2011, Sekhar added.