Game for it?
IT'S A BEAUTIFUL DAY

How about some serious car chase, dancing on visual cues or countering a terrorist attack this weekend? That too in the comfort of an AC? This week we recommend exploring the amazing world of gaming. And folks if you don't own a PlayStation or Xbox, do not worry. Video parlours in the city are offering gaming pleasure at an affordable price.

Knock-out punch: Bowling is a cool sport
First Day First Show
Thank you, Bazmee, says Chandigarh crowd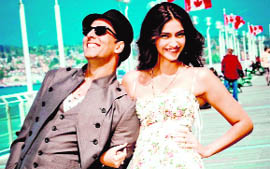 Multi-starrer Thank You has gone down well with the Chandigarh folks. Some happy faces, others still laughing, the scene after the first show was an exact opposite of what critics anticipated. Directed by Aneez Bazmee, the flick is based on three philanderer husbands — Bobby Deol, Irrfan Khan and Suneil Shetty. Sonam Kapoor, Rimi Sen and Celina Jaitley play their spouses, respectively.

Dual magic: Akshay Kumar & Sonam Kapoor
IT'S A BEAUTIFUL DAY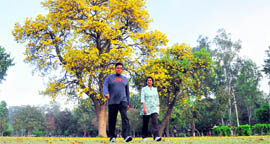 The rosy feeling
A beautiful garden retreat in the heart of Ludhiana, the popular Rose Garden was conceptualised by Dr MS Randhawa and inaugurated by the then President Giani Zail Singh in 1972. This beautiful garden is spread over a sprawling area, which originally had 24 wells. Now, the wells are covered by artistically manicured foliage figures of different animals.
Wizard of words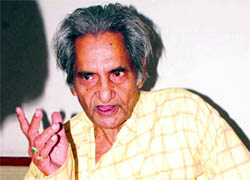 Veteran Bollywood lyricist Gopal Das 'Neeraj' says the era of melody is making a comeback
Poetry is beauty of the soul; being human is fortunate, but being a poet is eternal bliss," opines Hindi litterateur and veteran Bollywood lyricist Neeraj, who is in Chandigarh on the invitation of Haryana Sahitya Academy and Department of Public Relations and Cultural Affairs for a symposium.

Melody King: Gopal Das 'Neeraj'

TROUBLE SHOOTER
Do what you say
My son is 19-years-old and very intelligent, but he is extremely lazy; prefers to sleep till 12 pm. He is very unhygienic and despite my constant pestering he does not get a haircut, does not shave or cut his nails. He is not even able to help in the family responsibilities because of his laziness. Please help.


| | |
| --- | --- |
| Thread fare: A model shows the creation of designer Preeti Chandra during Wills Lifestyle India Fashion Week in New Delhi. Big smile: Sunanda Pushkar, wife of former minister Shashi Tharoor, at the show. — PTI | Gem-packed: Darling, since you are already wearing earrings, here is a nose-pin for you! |
Remains of 'Mona Lisa' to be dug up
The remains of a woman believed to have been the model for Leonardo Da Vinci's Mona Lisa will be exhumed in a bid to recreate her face.Professor Silvano Vinceti, a modern-day Indiana Jones investigator, will lead the team that will exhume the remains.The coffin of noblewoman Lisa Gherardini Del Giocondo is believed to be buried at the Saint Orsola convent in Florence. She is thought to have been the woman behind the enigmatic smile of the 'Mona Lisa', the 500-year-old painting that is one of the most recognisable images in the world.
astro turf

chatter box

star track


Why we love BipsWhy we love Bips
Bipasha Basu will be seen in Dum Maaro Dum and Singularity this year. Here are some reasons why we love the Bong bombshell.
Dusky beauty
Bipasha has striking features and her almond eyes are arresting. She is tall and shapely. She knows she is sexy and uses her appeal to her advantage. She loves being dusky and has never endorsed fairness creams. She is a beauty with brains.
Movies
Bipasha has worked her way up in Bollywood and sparkled in a bunch of movies such as Jism, Bachna Ae Haseeno, Race, Corporate, Lamhaa, Omkara and Dhoom.
Her versatility
Bipasha practices what she preaches. She is very fit and endorses a fit lifestyle. She is curvaceous and muscular because she does not believe in size-zero. She has launched a fitness DVD as well. She is seen in clothes that accentuate her figure and personality. She is unapologetic about the way she dresses.


Singularly attractive: Bipasha Basu


Neha Dhupia: Her rusty red maxi is comfortable and relaxed and perfect for the summer. We love the flowing fit. We like the chunky jewellery and minimal make-up too. She could go shopping or hit the beach right away!
Let's get summery!

Preity Zinta
We love this shade of pink and we like the fit and flow of the dress. The messy hair is low maintenance and the glares keep the sun out. PLZ keeps it simple and stylish!
Katrina Kaif
The floral-print Mango dress looks utterly comfortable. She has clinched it on the waist with a complementary slim brown belt. The colours are soothing and suits her complextion.
Kangna Ranaut
She is all set to enjoy the summer. She has cut her hair short and the ebullient floral dress is uber attractive. Her brooding looks add more spunk to her outfit. What's not to like! It's summer time so play with bold colours.