ATM frauds: Banks pay little attention on security aspects
GS Paul
Tribune News Service
Amritsar, April 12
Repeated incidents of misuse of ATM cards, stolen or left in the machines by card owners, reveal that banks are not paying due attention to several security aspects.Prominent among those aspects are the absence of security guards at ATM booths, mechanical shutters being non-functional at these booths and several software flaws.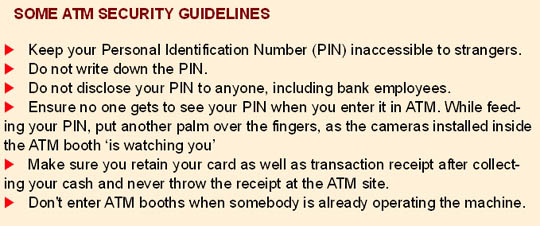 Incidents of stealing money using others' ATM cards were mostly reported from markets located in busy localities.
In a recent incident, three cops were nabbed for stealing an ATM card and using it for shopping worth thousands of rupees.
Installation of an automated teller machine costs a bank around Rs 40 lakhs. But banks spend a little on having apt sensors on doors of ATM booths.
A senior official of a nationalised bank, on the condition of anonymity, said, "Even the door can be opened by swapping an ordinary plastic card of a store."
Secondly, in the absence of guards, several people enter the booths at one go (Bank rules say only one person should enter the booth at one time).
This lapse was found prominently at the ATMs of the nationalised banks.
The officials said it was because of their complicated recruitment policy matters that they seldom appoint a full-time guard at the ATMs.
On the software front, banks not adopting one-time-one-transaction using ATM cards has also led to many stealing incidents. In such cases, unscrupulous elements made full use of the cards, which the actual card owner forgot to collect from the machines before leaving the booths.
Ironically, despite police department's insistence, the banks care two hoots to make their ATMs safe and sound.
The Deputy Commissioner of Police, Amar Singh Chahal, blamed the banks for adopting a 'who cares' attitude. "They secure their risk factors by getting the cash-loaded ATMs fully insured. But it is high time that the banks become more responsible in giving access to ATMs to their cardowners. Software of the ATMs and the magnetic data on the cards should be upgraded and should restrict the user for dispensing money only one-time on a single feed of password," he said.
At many locations, the telephone numbers of help desk/ contact persons were not displayed at the ATM booths causing difficulties in lodging complaints.