Mubarak told to appear before Cairo court
Cairo, April 14
The detained ousted Egyptian President Hosni Mubarak was today asked to appear before a Cairo court along with his two sons on April 19, in signs that the military rulers were pushing ahead with investigations against him, in spite of his complaints of heart trouble.
BlackBerry chief ends interview after India query
Countries have been seeking access to BlackBerry enterprise emails in view of national security
Toronto, April 14
Research In Motion (RIM) founder Mike Lazaridis ordered a BBC reporter to end an interview after he was asked about his problems with India and Middle Eastern countries over security issues. Countries have been seeking access to BlackBerry enterprise emails in view of national security issues.
India no show again
Cannes announces film lineup
Paris, April 14
The 64th edition of the prestigious Cannes film festival that opens on May 11, will this year screen 49 features from as many as 33 countries but there is no Indian entry to compete for the event's most coveted prize. After a fair showing last year with Vikramaditya Motwane's 'Udaan', India has again failed to mark its presence at the festival.
Target killings continue in Karachi, 14 dead in 24 hrs
Karachi, April 14
The spate of violence in the biggest Pakistani city continued unabated with 14 more people lost their lives in incidents of target killings in the past 24 hours.
Pak official shot at in Kathmandu
Kathmandu/Islamabad, April 14
A Pakistani embassy official here was shot and wounded by unidentified motorcycle-borne gunmen outside the mission building, with Islamabad voicing concern over the attack.
89 Indian prisoners set free by Pak
Karachi, April 14
Pakistan today set free 89 Indian fishermen as part of a process initiated by the two countries to speed up the release of people held in each other's prisons for inadvertently crossing land and maritime boundaries. The freed Indians were now on their way to Lahore from where they would head home to India.
Kan vows to rebuild Japan
Tokyo/Fukushima, April 14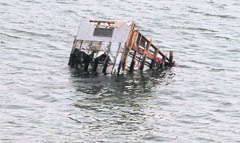 As hectic efforts were on to contain Japan's worst atomic crisis, the police in protective gear today for the first time launched a search for tsunami victims in a 10-km zone around a radiation-leaking nuclear plant while Premier Naoto Kan vowed to rebuild the nation amid growing opposition calls for him to quit.
A damaged house is seen floating in sea in an area devastated by the March 11 earthquake and tsunami, in Ofunato, Iwate prefecture, on Thursday. — Reuters
BRICS push for strict adherence to N-safety
Sanya (China), April 14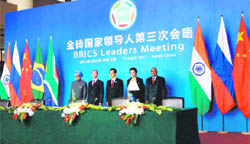 With concerns mounting over the safety of nuclear facilities after the Fukushima disaster, India and other BRICS nations today said that international cooperation in the development of safe nuke energy for peaceful purposes should proceed under conditions of strict observance of relevant safety standards and requirements concerning design, construction and operation of nuke plants.
BRICS leaders, Indian Prime Minister Manmohan Singh, Russian President Dmitry Medvedev, Chinese President Hu Jintao, Brazilian President Dilma Rousseff and South African President Jacob Zuma (From left to right) during a joint declaration at the one-day summit in Sanya, China, on Thursday. — PTI