Two inmates escape from Fazilka jail
Chander Parkash
Tribune News Service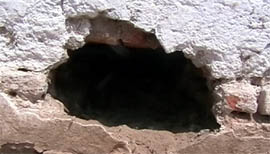 The hole in the wall of corridor
Fazilka, April 21
In a bizarre incident, two inmates of the local sub-jail escaped late last night.
As per the details, the two inmates first created enough space to come out of their barrack by tilting one of the iron rods of its gate. After coming out of the barrack, they created a big hole in the wall of the corridor, located in front of the barrack and passed through it. On reaching near the boundary wall of the sub-jail, the accused scaled it and subsequently came out of it.
The two inmates, Nirbair Singh of Kapurthala district and Amarjit Singh of a village falling under Guru Harsahai police station of the Ferozepur district, were the active members of an inter-state gang of vehicle lifters.
After the incident, two jail warders identified as Karamjit Singh and Raja Ram were arrested by the local police.
Jagjit Singh, IG, Jails, along with other senior functionaries visited the sub-jail. He said he would conduct the probe in the case on his own.
If any other official found involved in the incicident, action would be taken against him as well, the IG claimed.
Preliminary investigation revealed that negligence was shown by Karamjit Singh and Raja Ram in their duty.
Iqbal Singh Brar, Deputy Superintendent, Jail (DSJ), Fazilka, said the matter came to his notice when during the counting of inmates, he found two inmates absent.
Brar further said there were 94 inmates in the sub-jail against its capacity to house only 48 inmates. The newly born baby of Amarjit Singh died two days ago and Amarjit was in depression, which could have been the main reason behind the incident, the DSJ informed.
He added that the local police authorities as well as the state and district-level jail authorities were informed about the incident.
A case against the inmates and two warders was registered under Sections 223, 224 and 34 of the IPC at the city police station, today. Efforts are on to trace the two inmates.
Meanwhile, the security in and around the sub-jail here has been tightened.