M A I N N E W S
A TRIBUNE SPECIAL

Lakhs of Britons are planning to get out the buntings, balloons and fold-up tables to celebrate the April 29 wedding of Prince William and Kate Middleton. Shyam Bhatia writes from London on UK's biggest wedding since the turn of the millennium

A Royal Affair
Britain's biggest wedding since the turn of the millennium between Prince William and Catherine (Kate) Middleton invokes memories of Charles and Diana's nuptials in 1981.
Britain may no longer be known for its passionate devotion to royal causes, but interest in the upcoming event seems to have bucked any trend towards republicanism. The authorities in London are planning for at least a million and more spectators to turn out on the streets to watch the royal procession to and from Westminster Abbey.
Yet these figures are tiny compared to the two billion strong audience that is also expected to tune in via the Internet on social networking sites like Facebook, Twitter and Flickr, as well as YouTube's Royal Channel.
Back in 1981, the equally fairytale wedding of Charles and Diana attracted some two million spectators who lined the route from Clarence House to St Paul's Cathedral. The worldwide television audience then was estimated at 750 million.
This coming Friday's ceremony will see William and Kate travelling separately to the Abbey, using state cars from the royal mews. At their disposal will be a mix of two Bentleys, three Rolls Royces and three Daimlers. Once the ceremony is over, the newly married couple will travel in the 1902 state landau pulled by horses along the processional route to Buckingham Palace.
The actual wedding service is due to be conducted by the Archbishop of Canterbury, Rowan Williams, although the Dean of Westminster will officiate for much of the proceedings. In a break from tradition, Prince William has invited his close friend, the Bishop of London, Richard Chartres, to give the sermon following the exchange of vows.
At Buckingham Palace, Queen Elizabeth II is hosting a lunchtime reception for the newly weds that will be attended by members of European and other royal families. Also attending are a selection of British dignitaries and others who have had official and personal contact with the couple.
In India, the only comparable royal event was the 1940 wedding of Maharani Gayatri Devi of Cooch Behar to Maharaja Jai Singh of Jaipur. Like their 21st century British equivalents, the Indian royal couple was young, beautiful and surrounded by luxury of all sorts. But there were important differences as well. Gayatri Devi was Jai's third wife, whereas William and Kate are each marrying for the first time. Gayatri Devi was the recipient of some wonderful wedding gifts, including a Bentley presented to her by the Nawab of Bhopal, just as Kate will be. But, unlike Jai and Gayatri Devi, William and Kate will have to do without the procession of 60 elephants that was assembled for a march past on the auspicious day of the Indian royal wedding.
Instead the British capital will witness some 2,000 neighbourhood outdoor street parties, festooned with buntings and pictures of the happy couple, which will be attended by an estimated two million Londoners. One of the biggest street parties will be held in the London borough of Battersea which will host 17 live acts from around the world, broadcast the wedding from a giant screen and distribute food and drinks from a 35-metre-long table set up in the middle of the high street.
In Battersea and other parts of London, meanwhile, the UK's Indian community is all agog about who among them has received the much coveted invitation to either the wedding service or the reception. So far, no one is talking, although there is plenty of speculation about a particular NRI member of the House of Lords who has been invited along with his wife.
One certain NRI invitee is Kishore Patel from Leicester. His wife, Fiona Cairns, has designed the wedding cake. Another NRI couple on the list is India-born Chan and Hash Singhadia who run the local shop in Kate's home village of Bucklebury in Berkshire. Ms Hash Singhadia could not decide until the last minute on whether to splash out on a new sari for the special occasion.
North Korea's ambassador to the UK, Ja Song Nam, is an invitee, as is Indian High Commissioner Nalin Surie, but the only other confirmed "Indian" invitation is to the Governor General of New Zealand, Sir Anand Satyanand, who is of Indo-Fijian and Anglo-Indian heritage.
Unlike Williams' mother, the late Diana Princess of Wales, Kate comes from considerably more humble beginnings. Diana's father, Viscount Althorp, traced his ancestry back to King Charles II and before. The Althorps were accordingly rated as one of the UK's most aristocratic families, some say even grander and older than the current royal family represented by the Windsors.
Kate's great grandfather on the other hand was a coal miner. Her maternal grandmother, who married a lorry driver, was sarcastically referred to by her friends as the "Duchess", a comment on the tenacity of her social ambitions. Kate's mother and father are self-made millionaires who founded a mail order company that sells party supplies and decorations. They started their married life as airline stewards on British Airways. It is widely rumoured that friends of the younger royals refer to Ms Middleton as the "air hostess" and ask if she will be present on particular social occasions.
Kate's humble origins have endeared her to the public, which is now used to the royal family marrying commoners. This is a complete change from, say, 100 years ago when royals only married other royals and the resulting in-breeding was sometimes a cause of concern.
In the 20th century, the Queen's only daughter, Anne, started a trend by marrying two commoners, starting with army Captain Mark Philips. Anne divorced Philips in 1992 and soon afterwards married navy commander Timothy Laurence. The Queen's younger sons, Andrew and Edward, also married commoners. Edward, the younger of the two, is still married to Sophie. But Andrew's marriage to Sarah Ferguson also ended in divorce in 1996.
One consequence of marrying commoners is that the media now engages with the royals, with the exception of the Queen, with far less reverence and almost as if they are cut from the same cloth as film stars. How else to explain the decision of a local beer manufacturing company which is marketing a new ale laced with Viagra and marked with the slogan, 'Arise Sir Willy.' The company, which says it is celebrating the royal wedding 'Big Willy style', says the beer is "to stir the loins of newlywed princes, summon the ghosts of long lost princesses and cure the stammer of stuttering kings". Where Kate is concerned is that some parts of the media seem to use every opportunity to treat her as a WAG (wife and girl friend of a football player). At one level she is applauded as a fashion icon, while at the same time she is mocked for her choice of clothes bought from the high street. One popular newspaper with a reckless disregard for personal privacy has even gone to the extent of finding out what type of underwear she has bought for her forthcoming honeymoon.
Most cruel of all is the effort another newspaper has made to uncover photographs of Kate as a younger woman. Among them is a picture of Kate as a comparatively fat, round faced 19-year-old teenager visiting Northern Chile in 2001. The newspaper comments that she looks "some what different" from the slender and elegant woman "who will walk down the aisle next week."
Security arrangements for the wedding started in earnest when the couple's engagement was announced last November. But in recent weeks, the UK's counter terrorism units have been working over time to make sure that April 29 is incident free.
In the run up to the big day, security officials have in recent days been checking vulnerable spots along the wedding route, such as drains, manholes and traffic lights, to make sure they do not conceal explosives.
As pre-wedding excitement reaches fever pitch levels, the British public is seemingly less interested in the dangers of a terrorist attack and considerably more concerned with the planned attire of one high profile wedding guest.
British Prime Minister David Cameron let it be known that he was considering breaking with tradition (and decorum) by abandoning the traditional morning dress, including tails and top hat, and wearing instead a straightforward lounge suit.
Whether Cameron carries out his threat of dressing down remains to be seen. He now seems to be having second thoughts. The media's view is that when it comes to such all-important issues of dress protocol for a royal wedding, Her Majesty The Queen is not likely to be amused.

Bride's gown a well-kept secret
Kate Middleton's wedding dress, the royal cake and the royal couple's request for donations to chosen charities in lieu of wedding gifts are some of the most talked about aspects of the forthcoming wedding.
The wedding dress has been kept a secret and will remain so until 10.41 on Friday morning. Not even Kate's future husband has been allowed a preview.
In fact anyone watching the wedding on television will see the much anticipated fashionistas choice long before William does. He has been told he must wait in a small private chapel at Westminster Abbey until his bride's arrival when all will be revealed.
According to US sources, a little known British design label, Libelula, has been chosen for the all important creation, However, others say Sarah Burton of Alexander McQueen, Daniella Issa Helayel, Bruce Oldfield, Jasper Conran and Alice Temperley are all in the running.
The wedding cake is less of a state secret. Its designer is 56-year-old Fiona Cairns, married to NRI Kishore Patel, who was chosen in February this year to make the multi tiered traditional fruitcake decorated with cream and white icing. Her company, based in Leicester, has 75 employees and supplies more than 7,50,000 cakes every year to leading UK stores. Cairns has been quoted as saying, "What we are making for Prince William and Catherine will be more feminine. This is a very romantic cake."
Commentators say it will have a strong British floral theme - using at least 17 different flowers - with elements of what is called the Joseph Lambeth technique. Among the expected themes will be the interwined initials of the royal couple, as well as the four flowers of the home nations that make up the United Kingdom. — SB

Prince Harry takes charge of 'wedmin'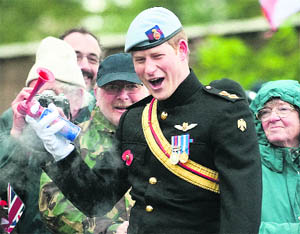 Prince Harry is said to be heavily involved with arrangements for the evening celebrations and wants to give William and his bride a party to remember. — AFP
Prince Harry is putting his heart and soul into making his brother Prince Williams marriage to Kate Middleton an affair to remember. Prince Harry has reportedly planned a secret "survivors" post-wedding breakfast' at Buckingham Palace for VIP guests who have partied through the night.
The 26-year-old, who is calling his part of the Royal Wedding planning "wedmin", is said to be heavily involved with arrangements for the evening celebrations and wants to give William and his bride a party to remember.
Three of the State Rooms at Buckingham Palace will be converted into a nightclub on the night of the wedding and Harry, who is best man, has organised for the DJ to play into the early hours, while caterers have been briefed to prepare bacon sandwiches and fry-ups for those guests still standing at the end of the night.
"Harry has organised a survivors' breakfast at 6 a.m. in the Palace after the party. It will mostly be their best friends from Gloucestershire who have known Williams his whole life," the Daily Mail quoted a source, as saying. "It won't be for the oldies, but the young ones. Harry is determined to make this a night to remember," the source added. — ANI