Race with a difference
Wanna race? Just do it with these remote-controlled radio cars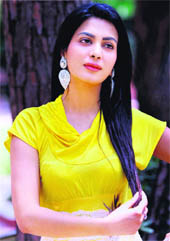 Bollywood Dream

: Miss India International Ankita Shorey who was in New Delhi recently, wants to work with Bollywood superstars Shah Rukh Khan and Aamir Khan. — PTI
Admirable Adam!
Cricketers are treated as demi-gods. So be it. There is no point debating, discussing and holding a round table conference on why players from other sports are not given similar status. Let's just cut that out for the moment and concentrate on Adam Gilchrist. Yes, from the 'fairly doing well' IPL Kings XI Punjab team.
What women want!
A new study claims that men with feminine faces will be luckier in love as more women are attracted to them than masculine men.
BHATT of course
Mahesh Bhatt was in Chandigarh to address a conference in support of jailed Pakistani national Dr Saiyyad Mohammad Khaleel Chishty, once an active professor of Virology in Karachi
Reasons do not define filmmaker Mahesh Bhatt…he is the one giving them a meaning in his own way! So when he comes down to Chandigarh to address a conference in support of a jailed Pakistani national Dr Saiyyad Mohammad Khaleel Chishty.


Chatter box

Veena Malik dazzles in bridal wear

Yashashri's summer fundas
No skin show for bride-to-be Nivedita Tiwari
Nivedita Tiwari who plays Runjhun, the lead protagonist in Zee TV's Bhagonwali…Baatein Apni Takdeer recently got engaged to her boyfriend in Guwahati, Assam. "Couple of months ago, when she suddenly asked the producers for a week's off, everyone was stunned. Nivedita finally confided that she is getting engaged," said an insider.
Replacement theory

: Rana Daggubati

Freedom to work

: Anurag Kashyap

Fun's sake

: Abhishek Bachchan

Clear cut

: Riya Sen
Some Haunted memories
From a reality show to television's daily soap, Twinkle Bajpayi has come a long way. She is making her debut in Bollywood as a lead actress in Vikram Bhatt's film Haunted 3D. We chat with the actress about her journey till date...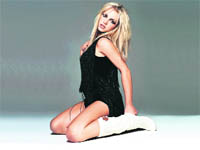 Spear-heading a riot
Pop princess Britney Spears' surprise appearance caused chaos at R&B star Nicki Minaj's party as security guards struggled to control the over-excited crowd.Minaj, 26, took to the stage for an after party at The Factory venue in West Hollywood on Friday night following her performance with Lil Wayne at the city's Staples Center.



Crowd puller

: Britney Spears


Johnny Depp prefers mansion
Hollywood superstar Johnny Depp refused to stay in a five-star hotel and instead opted for a mansion complete with a huge wine cellar while shooting for his new film.The 47-year-old actor, who is currently shooting in London for Dark Shadows, demanded a vintage wine cellar during his entire stay.

Dressing down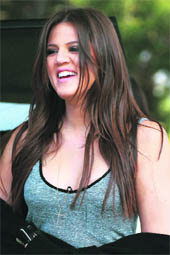 Reality star Khloe Kardashian, who was recently criticised by her mom about her curvy body, wore a see-through top at Nicki Minaj's after party in West Hollywood on Friday. She appeared confident in the risque top, which had a see-through panel all the way to her belly button that revealed a lot of cleavage.She paired it with a pair of skin-tight leather trousers and sky-high Christian Louboutin ankle boots. — ANI
Smart decision, AMY
Actress Amy Smart has announced her engagement to boyfriend Carter Oosterhouse.Smart told a US magazine that the news was 'very new' and 'very exciting'. The couple have had somewhat of a whirlwind romance after meeting in November 2010 at a green charity event.
Swing it right
Once the fundamentals are in place – grip, set-up and an on plane backswing - the player is in correct position at the top to hit a good shot. But all this does not guarantee a good shot.
A mystic's path
Spirituality is one of the most commonly used words today with a variety of ideas associated with it. Each one of us is here for a reason, even if we don't believe it or haven't felt it, doesn't mean it is not true.
Why women cut their hair after a break-up
Much to the surprise of her friends, 23-year-old Prachi Nigam, after a gap of four years, cut her long hair to shoulder-length — a rebellious way to tell her ex-boyfriend, "You are no more in my life and the thing you loved most about me I have got rid of."
Fashionista
Check this out
What is making a comeback are stripes or plaids! They're always in fashion and can be made into the most professional appearing garments that can emerge from the sewing room.