Young World
MGN Public School celebrates Earth Week
Tribune News Service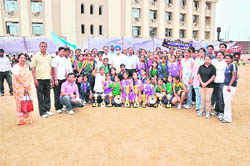 Prize winners of the Inter-Cambridge Sports Meet at Cambridge International School in Phagwara. A Tribune photo
Jalandhar, April 28
Earth Week was celebrated at MGN Public School, Kapurthala, from April 16 to 23. Various activities were conducted.Students recited poems and gave speeches on "History of Earth Day", "Interesting facts about environment" and "The need for sustainable and eco-friendly development".
The students were urged to preserve the Earth's environment.
Members of the Eco Club made beautiful paper bags and displayed them in the morning assembly conveying the message to make MGN polythene-free zone. Principal and students planted saplings on the school campus.
An environment quiz was also organised during the assembly. Posters, articles and slogans on "Mother Earth" were also displayed on the boards.
Principal Kamlesh Kaur Multani applauded the efforts of the students and motivated them to keep the environment neat and clean.
Model-making competition
Students of Apeejay School, Rama Mandi, won the first prize at the inter-school model-making competition held at Pushpa Gujral Science City, Kapurthala. The competition was held to celebrate World Earth Day.
Three students of the school, Anchal Sharma of Class IX, Poonam Deol of Class IX and Parminder Singh of Class X, displayed their model on "Green Earth", which was highly appreciated.
The students received a cash prize of Rs 5,000 and the winners' trophy.
Powerlifting tournament
Students of DIPS School, Nurmahal, brought laurels to the school in the sub-junior category of the Punjab State Powerlifting Championship, held on April 24.
Daljit Kaur Sohal of Class X bagged the gold medal in 84 kg weight category and qualified for the national championship, which will be held in Nagpur. Manpreet Kaur of Class X won the silver medal in 84 kg weight category. Taljit Singh of Class XII, Navneet Kaur of Class X and Sandeep Kaur of Class IX won bronze medals in 66 kg, 57 kg, and 43 kg weight categories, respectively.
Children made aware of rights
Apeejay School, Rama Mandi, today organised a conference to make students aware of their rights.
The programme was conducted at the call of the World's Childrens' Prize Foundation, Sweden. More than 100 countries with 53,500 schools and 24 million students took part in this global voting.
The main motive of the whole project is to sensitise students about their rights and to raise voice against child labour and child
trafficking.
Badminton championship
Vansh Murad Kalia and Gurneet Singh of Apeejay School, Mahavir Marg, brought laurels to their alma mater by winning the second position in the under-17 doubles category in the Punjab State Open Badminton Championship-2011 held at Sangrur from April 23 to 25.
Cerebral palsy camp
The Department of Physiotherapy of Lyallpur Khalsa College conducted a two-day free camp on cerebral palsy during which more than 100 children were examined and prescribed physiotherapeutic treatment. The camp was held in association with the Aas Kiran, a social welfare organisation.
District Health Officer Dr R.L. Bassan inaugurated the camp. Speaking on the occasion, Dr Bassan said in the absence of any proven medical treatment for the problem, pysiotherapy can prove to be a boon.
Head of the department Dr Raju Sharma said in India around 30 lakh children in the age group of 3 to 13 are affected with cerebral palsy and timely diagnosis and proper treatment of the problem can lead to considerable improvement in patients. At present, the department is running an OPD for cerebral palsy and other neuro-musculoskeletal disorders.
University toppers
Students of the DAV Institute of Physiotherapy and Rehabilitation bagged top positions in examinations conducted by Baba Farid University of Health Sciences, Faridkot. In bachelor in physiotherapy-first year, Neha Sharma secured the first position, followed by Pulkit Walia, who stood third.
In master in physiotherapy-first year, Nitika Gupta bagged the first position, Rajinder Kaur and Swati Bansal stood second and Sanil Taneja bagged the third position.
Chetna Shivir organised
Seven-day Chetna Shivir for social, moral and spiritual development of the students was organised by the Dayanand Chetna Manch at Mehr Chand Polytechnic College here.
During the shivir, guest lectures were delivered by various dignitaries. The students visited Nirmal Kutiya (Seechewal) and attended a lecture on "Environment safety" by Sant Balbir Singh Seechewal. The students took plants from Seechewal Nursery and also performed kar sewa around the Pavittar Bein in Sultanpur Lodhi. The students attended meditation classes.
Job fair at GNAIMT
As many as 40 students of the GNA Institute of Management and Technology (GNAIMT), Phagwara, bagged placements with various companies during a day-long job fair held on April 22. The job fair witnessed participation of over 300 students from different institutes of the region, including the host institute. The students have been hired for positions like sales executives, marketing executives, management trainees, regional managers, territory managers and much more.
Football captain honoured
Punjab women football captain Neha, who is a student of the Ramgarhia College of Education, Phagwara was honoured with an award of Rs 11,000 and a sports kit by Chairman of the Ramgarhia Educational Council Bharpur Singh Bhogal.
Neha is part of 19th Senior Women National Championship being organised by the All-India Football Federation at Bhilai. She has also been the captain of Guru Nanak Dev University football team which won the third prize in the All-India Inter-University Championship held at Gwalior. She also stood first as a member of the Jalandhar team in the Inter-District Shaheed Bhagat Singh Football Championship.
Scholarship awarded
Nine students of law of St Soldier Law College bagged top positions in Guru Nanak Dev University, Amritsar. Shivani Arora of B.A. LLB stood first in the varsity, followed by Komalpreet, Harpreet, Neeraj, Harmeet, Amandeep and Lovely. The toppers were awarded with Master Raj Kanwar Scholarship of Rs 35,000 in total.