PUNJAB

HARYANA

JAMMU & KASHMIR

HIMACHAL

REGIONAL BRIEFS

NATION

OPINIONS

LETTERS

BUSINESS

SPORTS

WORLD

Every Wednesday & Saturday

Over 100 stone crushers illegal in state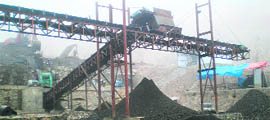 Jammu, April 29
Notwithstanding claims of the authorities regarding keeping a check on industrial units spreading pollution, more than 100 stone crushers have been functioning across the state without permission. Though the authorities have initiated action for the closure of illegal units, a large number of stone crushers continue to play havoc with the ecology of the state.
Wani as MoS Home
Security forces welcome move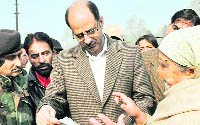 Jammu, April 29
Having witnessed over 110 killings during summer unrest in Kashmir last year, Chief Minister Omar Abdullah's decision to delegate the Home Department to his confidant Nasir Aslam Wani, Minister of State for Housing and Urban Development, amply conveys that the former is desperate to maintain peace.
Juvenile boards in distress?
April 27, 2011
Heavy turnout, high expectations
April 23, 2011
Focus on heritage preservation
April 20, 2011
Untimely rain delays wheat harvesting
e-learning facility
April 16, 2011
CAG: University fails to use e-learning facility
April 13, 2011
House panel rues casual approach of bureaucrats
April 9, 2011
MNREGA: Panel raps officials for poor implementation
April 6, 2011
Terrorism ruins social fabric in Jammu province
April 2, 2011
Centre withholds Rs 697 cr as state defaults on urban reforms
March 30, 2011
Well-placed govt employees among beneficiaries: MLA
March 26, 2011