Cup of tea turns deadly, 2 die, 3 taken ill
Barnala, May 1
Two children of a Dalit family died in village Chananwal of Barnala district after drinking poisonous tea on Saturday morning.
Inspire Awards
Edu Dept takes initiative to tap budding scientists
Bathinda, May 1
Aiming at the exploration of talent among young students and produce budding scientists, the state education department, funded by the department of science and technology (DST) of the Central Government, is going to conduct statewide Inspire Award project competitions.
State-level Mental Arithmetic test
Siblings from border town win top positions
Fazilka, May 1
A nine-year-old student of class IV, Ikshit Thakral of Fazilka, has won the champions trophy in the Universal Concept of Mental Arithmetic System (UCMAS) in the state-level test held at Mohali, recently.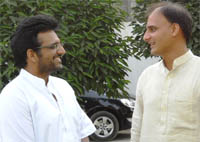 Maharashtra YC leaders directed to campaign for 2012 elections
Abohar, May 1
AICC general secretary and in-charge of the Youth Congress affairs Rahul Gandhi has asked Maharashtra Youth Congress leaders to chalk out a plan for campaigning during the Punjab Assembly election slated for February 2012.
Maharashtra YC leader Siddhartha Khosa (left) with district YC president Sandeep Jakhar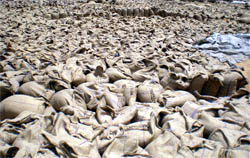 Slow lifting results in wheat glut at grain markets
Moga, May 1
Lifting of wheat from the grain markets in the Moga district by the procurement agencies is slow. As a result, almost all the markets have been witnessing a glut of wheat these days.

A view of the main yard of the choked grain market in Bathinda on Saturday after the labourers suspended the unloading and lifting process following a tiff. Photo: Rajay Deep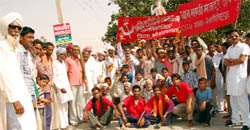 Procession marks May Day celebrations
Abohar, May 1
Thousands of workers participated in the rallies held here and in the neighbouring areas of Sriganganagar and Hanumangarh districts to celebrate the May Day on Sunday.
May Day rallies were organised in different segments of Sriganganagar district. A Tribune photograph

May Day observed
Bathinda, May 1
May Day was observed here today by various organizations. The MES workers' union held a gate meeting that was addressed by various leaders. The Punjab medical representatives association organized a rally that started from the Mehna Chowk and culminated at the Gandhi Market. Activists of other labour unions also joined the rally. — TNS
Social activist honoured
Abohar, May 1
A social activist, Bhagwan Bhai, has been honoured by the publishers of the India Book of Records and Asia Book of Records.
Detection of jaundice cases
Admn swings into action in twin dists
Abohar, May 1
Alarmed over the detection of jaundice patients, reportedly due to consumption of contaminated water at village Taja Patti of Balluana segment, the authorities in the neighbouring twin districts of Sriganganagar and Hanumangarh have taken several preventive measures.
'Roko Cancer' campaign
Health dept to hold camp on Tuesday
Fazilka, May 1
Under 'Roko Cancer' campaign, the National Rural Health Mission and Health Department (Punjab) has launched a drive to check the dreadful decease.
Water coolers, thandai to help BSF jawans combat heat
Abohar, May 1
To keep the body temperature of the jawans cool during their duty hours under the scorching sun, the Border Security Force (BSF) authorities have started serving lemon tea, 'thandai' and cold water at their duty points round-the-clock in the Indo-Pak border area, falling in this sector.