Major-Gen escapes attempt on life
One killed, 10 injured in car bomb blast at Udhampur
Ravi Krishnan Khajuria
Tribune News Service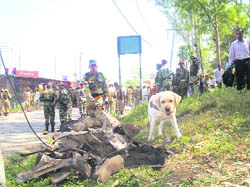 Security personnel with a sniffer dog check the wreckage of the car. Tribune photographs
Jammu, May 2
A senior Army officer had a close shave while a milk vendor was killed and 10 others were injured, three of them seriously, in a car bomb blast in Udhampur district, about 65 km north of Jammu, this morning.
The incident occurred around 8.25 am near the Birwan Bridge on the Jammu-Srinagar National Highway, near the garrison town of Udhampur, which houses the headquarters of the Northern Command.
The deceased has been identified as Kuldeep Kumar Sharma, 40, a resident of Dabrah Morh in Krimchi.
Official sources said the explosive device was triggered by a remote control when Major-Gen DS Pathania, Commandant of the Command Hospital, Udhampur, was on his way to his office in his official car.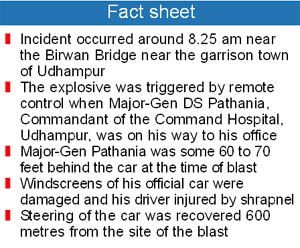 Windscreens of Major-Gen Pathania's car were damaged in the high-intensity explosion, they added.
"It seemed to be a remote-controlled IED explosion in which one person was killed," said IGP, Jammu zone, Dilbagh Singh. He also confirmed that the registration number of the Maruti car used for triggering explosion had been erased. The sources said the chasis number, engine number and the registration of the old Maruti-800 car were found to be erased and the vehicle carrying explosives had been parked near the bridge during wee hours.
"Preliminary investigations revealed that the explosive device was triggered by a remote control within 100 metres of the site where the car was parked," they added.
While the high intensity explosion caused the maximum damage to objects on the left and right sides of the car, splinters did not cause much harm on the front and rear sides of the vehicle. As Major-Gen Pathania was some 60 to 70 feet behind the Maruti car at the time of the blast, he survived, said the sources. However, a flying shrapnel caused a minor injury to his driver, they added.
The impact of the explosion could be gauged from the fact that the steering of the car was recovered 600 metres away from the premises of the State Forest Corporation while shrapnels were found 200 metres from the site of the explosion, they added.
The car had been parked by a roadside tea-stall at the Birma Bridge on the strategic Jammu-Srinagar National Highway. Barely 50 metres from the site of the blast, the Army's Intelligence Bureau has its mess and a water plant. On an average 10 senior Army officers cross the road everyday where the blast occurred today, said the sources.
SSP, Udhampur, Surinder Gupta said so far no militant outfit had claimed the responsibility for the blast. Some media reports suggested that the militants triggered the blast in retaliation to the killing of al-Qaida chief Osama bin Laden in Pakistan.