'Invest in infrastructure in mountainous areas'
Nainital, May 4
Infrastructural investment is the most vital initiative to be taken by the governments if they are interested in resolving the problems of the people living in the mountainous regions.
Institute to prepare water quality map of state
Dehradun, May 4
With doubts being raised about the quality of drinking water in the state, the Jal Sansthan has signed an MoU with Sri Ram Institute, Delhi, for preparing a water quality map for the rural and urban areas of Uttarakhand.
BJP govt has failed on all fronts, says Arya
Pithoragarh, May 4
Uttarakhand Congress chief Yashpal Arya today criticised the state BJP Government and Chief Minister Ramesh Pokhriyal Nishank for preventing anganwari workers and trained unemployed teachers from meeting him during his visit to the district yesterday, terming it as an "autocratic and dictatorial act".
ban on quarrying
Negi's fast enters second day
Dehradun, May 4
The fast by vice-president of the Garhwal Mandal Vikas Nigam Raghunath Singh Negi in protest against the ban on quarrying in the rivers of the Garhwal region entered its second day today.
Elaborate security arrangements for yatra
Dehradun, May 4
The Uttarakhand police has made elaborate security arrangements for the Char Dham yatra starting from May 6. The "kapat" of Gangotri and Yamunotri will be opened on May 6 and the "kapat" of Sri Kedarnath on May 8. Sri Badrinath will be opened to pilgrims on May 9.
Power sector employees hold protest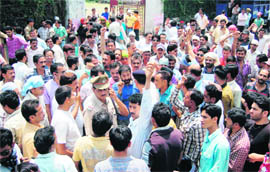 Dehradun, May 4
Contractual employees of the three corporations of power sector held a protest march from Gandhi Park to the Secretariat on the 10th day of their strike demanding regularisation of jobs. Yogender Vishral, one of the protesters, who was leading the march said, "Every employee on contract is determined to lay down his life, if needed, to force the government to accept the demand of regularisation of employees."

Contractual employees of the power corporations hold a demonstration in support of their demands in Dehradun on Wednesday. A Tribune photograph
SMART CARD SERVICE
Half of beneficiaries in Haridwar avail themselves of benefit
Haridwar, May 4
The much-touted below poverty line smart card service is moving at a snail's pace despite it being almost a year since it was inaugurated in Haridwar district. Till date, just half of the total enrolled BPL family members are cashing in on the smart-card services numbering 91,927, while according to the department officers, it will only be by the end of this year that the total number of members can be covered fully.
Welham Girls, Unison win in hockey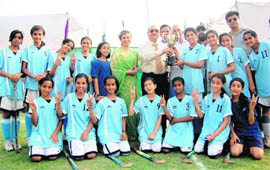 Dehradun, May 4
It was a disheartening day for Guru Nanak Academy (GNA) as it lost finals in both junior and senior categories in the DDCSA Inter-School Senior/Junior Girls Hockey Tournament held at Unison World School,here today.
The Welham Girls' School hockey team that won the DDCSA Inter- School Junior Girls' Hockey Tournament in Dehradun on Wednesday. A Tribune photograph
BCS beat MCGS in basketball tourney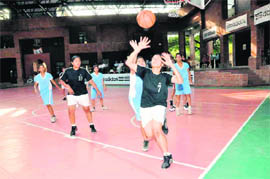 Dehradun, May 4
In the fifth Welham Girls' School Golden Jubilee All-India Basketball Tournament that got underway today, the first match was played between Bishop Cotton Girls' School (BCS), Bangalore, and Mayo College Girls' School (MCGS). BCS beat MCGS 36-7. Lopa mudra was the top scorer for her team with 13 points.
A match in the Welham Girls' School Golden Jubilee All-India Basketball Tournament in Dehradun on Wednesday. A Tribune photograph