Slum dwellers benefit from urban health centres
Dehradun, April 23
Urban health centres focussng on maternal and child healthcare located in four cities of Uttarakhand are helping slum dwellers access better facilities.
Now, get vaccination schedule through SMS
Dehradun, April 23
The Health Department will now use modern technology to keep track of the immunisation record and will send reminders to the parents about the next date of the vaccination.
Tourists throng Nainital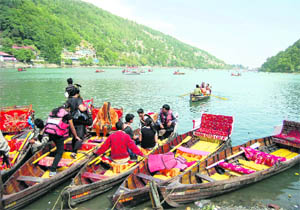 Nainital, April 23
Over the Easter break, Nainital has witnessed a huge influx of tourists which has tested the preparations of the administration for the coming tourist season that is expected to last from May 1 to July 15. Since Friday, the hotel accommodation in the town has been full to the optimum capacity with tourists pouring in to escape the summer heat of the plains. Even till midnight, this correspondent witnessed people looking frantically for hotel accommodation.
The lake at Nainital. A Tribune file photograph

Horticulture varsity to be renamed after Garhwali
Dehradun, April 23
Chief Minister Ramesh Pokhriyal Nishank today paid homage to Veer Chandra Singh Garhwali at a function held at Peethsain in Pauri Garhwal district on the occasion of 81st anniversary of the Peshwar episode.
Silk production up in state
Nainital, April 23
The new technology adopted by scientists at the Regional Oak Tasar Research Centre here has resulted in increased production of silk. The improved methodology has increased the number of eggs laid by silkworms.
Man found murdered in Haridwar hotel
Had checked in with a woman, who is missing
Haridwar, April 23
In a shocking incident, a man's body was today recovered from a city hotel. He had checked in along with a woman companion, who is absconding. As per the entry in the hotel register, the duo had signed in as a married couple. The room was booked by Inku Singh of Kathla area in rural Gazibabad showing deceased Arjun Singh as her husband.
Residents for electric crematorium
Pithoragarh, April 23
The residents of Tanakpur town, where the famous temple of Purnagiri is located, have demanded an electric crematorium near the Sharda river as the large-scale cremation of bodies on the bank of the river is spreading litter, resulting into stench for the pilgrims taking bath in the river before going to the Purnagiri temple.
Inter-state ATM card thieves arrested
Haridwar, April 23
The Mangalore police has arrested two members of an inter-state gang, who had carried out burgalries via automated teller machine cards from card owners at gun point. The arrested duo, Sonu, a resident of district Saharanpur, and Pradeep, a resident of Muzaffarnagar district, both in Uttar Pradesh, are a part of an inter- state gang involved in multiple theft cases in several cities of Uttarakhand and Uttar Pradesh.