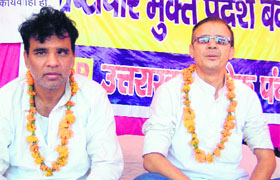 Fast against corruption continues
Dehradun April 15
The fast being observed by the Uttarakhand Lok Panchayat continued on the eighth day today. The protest is being observed against "widespread corruption" in the state, where president Prakash Tiwari and senior vice-president Sahab Singh Panwar of the panchayat held the fort. Later in the day, they also burnt an effigy of the state government.
Members of the Uttarakhand Lok Panchayat on fast against corruption in the state, in Dehradun on Friday. A Tribune photograph

Protest by ABVP
Dehradun April 15
In the backdrop of a campaign to discontinuing the practice of selling books and uniforms in school, members of Akhil Bharatiya Vidhyarthi Parishad (ABVP) barged into the premises of Children's Academy School and staged a demonstration, here yesterday. According to Anshul Chawla, a member of ABVP, "Today, during our raid in Children's Academy School, we visited the stationery as well as uniforms stores of the school in the basement of the building and wondered how it went unnoticed by the city administration."
Cong for review of liquor policy
Dehradun, April 15
Senior Uttarakhand Congress leader Dhirendra Pratap has urged Chief Minister Ramesh Pokhriyal Nishank to review the liquor policy of the state in view of a statewide protest against the allotment of shops close to educational and religious institutions.
Transport nagar to be functional by year-end
Haridwar, April 15
By the end of this year, the multi- crore project of a 'transport township' in Haridwar will become functional, reducing major pressure within the city of transport business that is severely affecting the city particularly in the past few years, owing to setting up of a separate integrated industrial estate.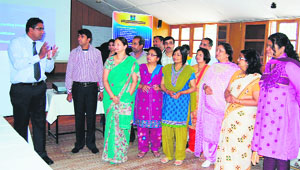 Workshop on methods of teaching held
Mussoorie, April 15
A workshop on methods of teaching emphasising the use of various tools to make classroom teaching an engaging one was held at Oak Grove School in Mussoorie today.


A workshop on methods of teaching was held at Oak Grove School in Mussoorie on Friday. A Tribune photograph

Hindu Sewa Mandal activists immerse ashes in Ganga
Haridwar, April 15
To give solace to the souls of 500 unknown people, a group of social activists from Rajasthan came today to Haridwar to immerse the ashes of these people in the Ganga.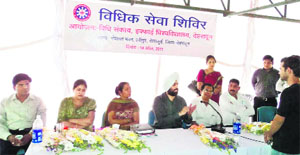 Legal aid camp held in village
Dehradun, April 15
The faculty of law, ICFAI University, Dehradun, organised a legal aid camp at Haripur village, Vikas Nagar, under the leadership of the Dean of Faculty of Law, Dr B Kumar, here today.

A legal aid camp organised by the Law Department of ICFAI University near Dehradun on Friday. A Tribune photograph

Patwaris keep fingers crossed on implementation of demands
Dehradun April 15
A total of 1,220 patwaris, working in the hill areas of the state, handling a unique system of revenue collection and policing, won a long battle, simmering since 1950, by waging a strike for three years to get a dignified designation and pay scale appropriate to their tough working conditions of a dual nature. They met with success by getting a government order to this effect a month ago.
Relief funds 'not used properly'
Dehradun, April 15
Manorama Dobriyal Sharma, member of the Central Advisory Board on Child Labour, Government of India, and ex-Mayor of Dehradun condemned the state government for not utilising disaster-management relief funds appropriately.