Congress councillors to get Rs 3.15 lakh for development
Dehradun, April 13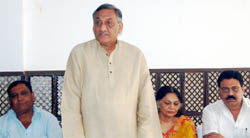 An amount of Rs 3.15 lakh will be given to all the Congress councillors who are working with the Municipal Corporation (MC) for development of their areas. Tehri MP Vijay Bahuguna stated this while speaking to the councillors from the party and the appointed representatives of the Cantt Board here today.
Vijay Bahuguna, Tehri Garhwal MP, addresses a meeting of councillors in Dehradun on Wednesday. A Tribune photograph
Post rural polls, CM resumes Vikas Yatra in Haridwar
Haridwar, April 13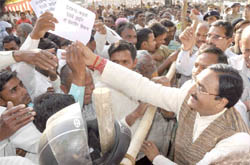 With election code of conduct now over for the three-tier panchayat elections in Haridwar, the much-touted Chief Minister Ramesh Pokhriyal Nishank's Vikas Yatra has now again resumed in the district.




Chief Minister Ramesh Pokhriyal Nishank breaks a security cordon to meet common people as part of his Vikas Yatra in Roorkee on Wednesday. Tribune photo: Rameshwar Gaur
SP to hold statewide Pol Khol programme on April 16
Dehradun, April 13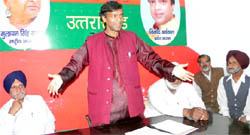 The Samajwadi Party (SP) will hold a statewide Pol Khol programme on April 16 to allegedly expose the anti-state policies of the BJP and the Congress.



Vinod Barthwal of the Samajwadi Party addresses a party meeting in Dehradun on Wednesday. A Tribune photograph
Guv, CM remember Dr Ambedkar
Dehradun, April 13
Uttarakhand Governor Margaret Alva has greeted the citizens of Uttarakhand and the country on the occasion of 120th birthday of Bharat Ratna Dr Bhim Rao Ambedkar.
Tomato to yield maximum price this Oct: Experts
Nainital, April 13
With tomato being sown by vegetable farmers in the state, a team of experts from the Gobind Ballabh Pant University of Agriculture and Technology at Pantnagar has predicted that the produce will fetch maximum price in the wholesale market in the October this year.
3-day traditional fair begins at Kumaon
Pitthoragarh, April 13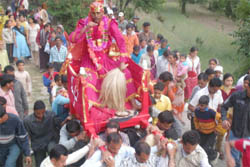 Lohaghat Congress MLA Mahendra Singh Mahra today inaugurated a three-day traditional fair celebrated in the Kali Kumaon region of the state to please the local landlord deity. Chairman of the Mela Committee DSP Anand Singh Dhoni said more than 25,000 devotees from across the Kali Kumaon region would participate in the fair. "During the fair, we worship our deity Chamu and offer our crop and other household pleasures to deity," said Dhoni.
A man, who is considered a local deity during the festival, being taken in a palanquin in Pitthoragarh.
Sikh bodies to hold Maha Sammelan
Gyan Godhri Gurdwara Issue
Haridwar, April 13
With the Sikh organisations, which have been demanding the construction of Gyan Godhri Gurdwara at it original place at Har-ki-Pauri getting an assurance from Chief Minister Ramesh Pokhriyal Nishank that he would take the matter as a priority, have decided to hold a Sikh Maha Sammelan to press for their demand.
Tibetan women hold candlelight march
Mussoorie, April 13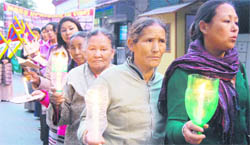 Members of the Regional Tibetan Women Congress held a candlelight march to pay homage to the late Jamyang Jinpa, a 37-year-old monk of the Labrang Monastery, eastern Tibet, here today.



Members of the Tibetan Women Congress take out a candlelight march in Mussoorie on Wednesday. A Tribune photograph
Resident files complaint against Ramdev
Dehradun, April 13
A resident of Sayed Mohalla, Chakrata Road, has filed a complaint in the court of the Judicial Magistrate against yoga guru Baba Ramdev over his remarks that a minister in Uttarakhand demanded a bribe Rs 2 crore from him.
DMC team removes encroachment
Dehradun, April 13
A team of the Dehradun Municipal Corporation (DMC) today removed the encroachment from the Rajinder Nagar Society area.
Goods being sold in open confiscated
Mussoorie, April 13
The goods sold in the open were confiscated by the Municipal Health Department in a drive that began here today.
Youth commits suicide
Mussoorie, April 13
Rajesh, 23, son of Jagdish, resident of Sumitra Bhawan, Mussoorie, committed suicide after consuming testicide tablets (Sulphas) today.