M A I N N E W S
CBI arrests BJP MLA in graft case; Kalia under lens
Rs 15 lakh in cash, 9 cheques worth Rs 1.35 cr recovered from a car belonging to Khurana's associate
Aneesha Sareen/TNS
Chandigarh, May 5
The Central Bureau of Investigation on Thursday arrested Raj Khurana, Punjab's Chief Parliamentary Secretary and BJP MLA from Rajpura, from his Sector 39 residence here. A corruption case has been slapped on him for allegedly demanding a bribe of Rs 1.5 crore. The MLA's arrest was made almost twelve hours after CBI sleuths raided his residence after laying a trap last night.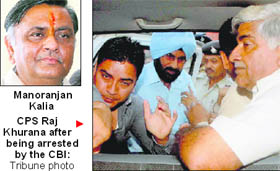 The CBI has recovered Rs 15 lakh in cash and nine cheques from the boot of the car of a co-accused in the case, Devinder Singh, an employee in the office of Registrar, Firms and Societies, Punjab. The money had allegedly exchanged hands between CBI complainant Manpreet Singh, general secretary Punjab Automobile Mechanics Association, and Devinder It was to be passed on to Khurana to favour the complainant (Manpreet) in a fraudulent land deal case.
In a further embarrassment for the ruling SAD-BJP combine, the CBI has alleged the involvement of Punjab Industry and Commerce and Local Government Minister Manoranjan Kalia in the case too.
Khurana has been remanded in two-day police custody to probe the involvement of Kalia, reference to whom is made in the conversation between the complainant and Khurana on phone. The CBI has recorded the conversation and the CD has been submitted in the court.
As per CBI claims, Devinder introduced Manpreet to
Raj Khurana at the MLA's residence and there is also a telephonic conversation revealing that they had met Kalia for hushing up a case against Manpreet.
The CBI alleged that Rs 1.5 crore was to be offered to Kalia for his help in the matter. Kalia's name has been mentioned in the FIR by the CBI in the case.
CBI Special Public Prosecutor Pawan Kumar Dogra also told court that Khurana needs to be interrogated as to how he and Devinder came to know about the land deal.
The developments have come as a big setback to the image of the SAD-BJP government that had recently announced zero tolerance for corruption. Only two days ago, SAD CPS Sohan Singh Thandal was convicted by a Mohali court in a disproportionate assets case.
Reference to another minister
The CBI also stated that when interrogated Khurana denied having met Kalia and said he met Swarna Ram, Minister of Social Security and Development of Woman and Children. However, the CBI said there is no involvement of Ram, except that his name finds mentioned in the conversation.
BJP supporters raise slogans
High drama was witnessed when Raj Khurana was being produced in the CBI Court in Sector 17 amidst tight security. Alleging frame-up, BJP supporters gathered outside the building and raised slogans against the CBI.
n BJP backs Khurana P5

The 'dirty' deal
* MLA Raj Khurana and Devinder demanded a bribe of Rs 1.5 crore from Manpreet Singh, general secretary, Punjab Automobile Mechanics Association, for closing a complaint pertaining to an illegal land deal against the association's office-bearers.
* Devinder told Manpreet that he has approached Kalia through Khurana for closing the complaint.
* An amount of Rs 2 cr was initially demanded, which was finally settled at Rs 1.5 cr.
* Devinder 'threatened' Manpreet that in case of non-payment of amount a criminal case will be registered against them.
* The bribe amount was to be delivered at Khurana's Sector 39 house. The CBI laid a trap and recovered Rs 15 lakh in cash and nine blank signed cheques of Rs 1.35 crore from the boot of Devinder's Porsche car. Both Devinder and Khurana were then arrested.
* A case under Section 8 of the Prevention of Corruption Act was slapped on them.
Defence plea: CBI was in haste
Heated arguments were witnessed in the Special CBI Court of Ritu Tagore when the defence counsel claimed that the CBI case was baseless. He argued that the CBI showed haste in registering the case. "The money being recovered from Devinder Singh's car does not show Khurana's involvement," argued advocate AS Chahal. Devinder's counsel said his client is not an employee of Registrar Firms and Societies, Punjab.