Father gets false calls of kidnapping of his runaway estranged son
New Delhi, May 5
The Delhi police has arrested a 24-year-old man from Mumbai after a businessman from Gandhi Nagar in east Delhi complained that he had kidnapped his estranged son and was demanding ransom.
Power cuts give sleepless nights to Noida residents
Greater Noida, May 5
Power cuts from three to four hours daily, especially during nights, have robbed residents of Greater Noida of their sleep. It has disturbed the routine of the people who are used to get up early in the morning to go for a walk and then to work.
Road rage near DM house: Car drivers beat biker
Cops accused of non-action
Noida, May 5
Two persons in a car today hit a biker from behind and then assaulted him when he protested. The incident took place near the residence of the district magistrate of Gautam Budh Nagar in Noida's Sector 27. The car-borne men then sped away after smashing the victim's motorbike.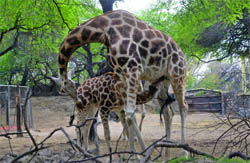 The warmth of mother's love. Tribune photo: Manas Ranjan Bhui
DU will have 5 cut-off lists this year
Admission schedule out
New Delhi, May 5
In its advisory committee for admissions, Delhi University today decided the key schedule for the upcoming 2011-12 admission session. It was decided earlier that the admission process would begin only after the colleges announce its cut-off lists.
MCD decries govt remark on ghost staff
New Delhi, May 5
The Municipal Corporation of Delhitoday criticized the Delhi government's statement before the Delhi High Court that the civic body had caused a loss of Rs 500 crore by paying salaries to 'ghost employees'.
Healthcare services for ex-MLAs
New Delhi, May 5
The city government has approved modifications in the office memorandum regarding improvement in the Delhi government employees' health scheme with an aim to provide comprehensive healthcare facilities to former MLAs.
50% health workers make light of hand hygiene
New Delhi, May 5
The national Capital may boast of a robust health infrastructure, but when it comes to infections acquired due to prolonged hospital stay, the concerns remain be it the government or the private hospitals.
MCG poll agenda: BJP to abolish house tax
Gurgaon, May 5
The Haryana BJP released its manifesto for the Municipal Corporation of Gurgaon (MCG) election to be held on May 15. Releasing the manifesto at a press conference here today, state BJP president KP Gurjar said if voted to power in the MCG, the BJP would make Gurgaon a clean, green and pollution-free model city of international standard.
Boy crushed to death; locals run amok
Faridabad, May 5
Residents of Nehru Colony and its thereabouts in NIT-3 falling in SJM Nagar resorted to violence this evening when a six-year-old brother of a bridegroom was crushed to death by a trolley.
3 asphyxiated in S. Delhi
New Delhi, May 5
Three labourers were today asphyxiated while cleaning a tank of a biogas plant at a south Delhi farmhouse. The incident took place at Rajokari around 4.15 pm when they were cleaning the tank.
Govt mulls grant for HIV patients, to check parlours
New Delhi, May 5
The Delhi government is mulling grant of financial assistance and nutritional support to the HIV-infected persons in the city. It has also decided to provide free diagnostic tests for the HIV-infected persons in the government hospitals.
Cop stabbed to death
New Delhi, May 5
A 45-year-old head constable of the Delhi police was discovered stabbed to death in the Dwarka area of southwest Delhi this morning. According to an official from Dwarka (south) police station where the victim was posted, Kailash Chandar was found dead on Ram Lila Grounds of Dwarka Sector-1 by a passerby who informed the police about it around 6 am.
Friend killed for breaking bottle
New Delhi, May 5
The outer district police has arrested two youths for killing their friend following an argument over breaking a whiskey bottle. According to the police, the incident was reported from Sultanpuri on the intervening night of May 3-4. The arrested have been identified as Kuldeep (23) and Ravi (25). They bludgeoned to death a friend of theirs also known as Kuldeep (25).
15-yr girl hangs self
New Delhi, May 5
A 15-year-old girl allegedly committed suicide in the Vivek Vihar area of east Delhi this morning. According to the police, the victim, identified as Poornima, was a student of class X at a government school.