Welcome to PUNJWOOD!
Better scripts, designer costumes, exotic locales, extensive publicity and marketing—Punjabi cinema sure has come of age
Jasmine Singh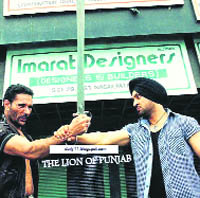 Locking horns:

A still from The Lion Of Punjab
Neither Nostradamus saw it coming, nor did Paul the Octopus from the World Cup football say anything about it; some people in the habit of peeping through cameras, however, made this prediction a year back - in times to come, Punjabi movies would give any Bollywood flick a run for money!
We dismissed it because we never saw anything happen. And then one fine day, newspapers and television flashed news about how a Punjabi flick Dharti was running jam-packed in theatres, when all the dum from the competitor in theatre Dum Maaro Dum was steaming out.
Punjabi cinema has finally made it. Better scripts that have shifted base from rural Punjabi, jat and jatti da badla to the youth of today. Appreciable budgets that facilitate designer costumes, exotic locales, extensive publicity and marketing, you cannot ignore this cinema any more, even if you want!



(Left) Surveen Chawla with Jimmy Shergill (Right) Pooja Tandon and Diljit Dosanjh
Navaniat Singh, the young director who made Mel Kara De Rabba and Dharti, is also surprised with the overwhelming response Dharti is getting from the audiences, non-Punjabis as well. "Indeed, Punjabi cinema is in for better times. And what has made all the difference is fresh scripts and fresh faces. Dharti is a new experimental genre, very different from the regular run-of-the-mill subjects. We had an interesting star cast like Rahul Dev and Rannvijay. Besides, we went ahead to do a film without the mandatory comedy interjections," he says.
Thankfully, Punjabi audiences are opening up to the idea of mixing butter chicken with dal ki pithi; they understand that mocktails can be as refreshing as lassi and cinema can do without a jat sitting in his fields discussing the batwaara!
However, we cannot rule out the role of moolah in the whole scene. Actor Jimmy Shergill, who has set a benchmark in Punjabi cinema, doesn't rate moolah as the only factor that has brought about the change.
"Money follows after the movie is a hit. Change is coming because the industry has realised that a lot more can be done with subjects in Punjab. The change has come with better marketing and selling of the flick," he adds. "We had an option to make something close to Mel Kara De Rabba, but we opted for a youth based topic for Dharti. We didn't use any comedy, which is considered essential in Punjabi flicks," shares Jimmy, who is exploring newer avenues in cinema.
It's been a long and a tough ride. However, things are looking up. Figures bring out the story of success. In 2000 there was just a single release, Dard Pardesan De which fared poorly in Punjab, but did very well overseas. Sikandra and Jagira were released in 2001. In 2002 Jee Ayan Nu was released, featuring singer-turned-actor Harbhajan Mann and directed by Manmohan Singh. The movie was made on a big budget for 'Punjwood' — 90 lakhs, as compared to the more typical 20-50 lakhs. Badla came out in 2003. Asa Nu Maan Watna Da was released in 2004, again with actor Harbhajan Mann and director Manmohan Singh. Later, a significant number of movies were produced in 2008: Yaariyan, Mera Pind, Lakh pardesi hoye, Heaven on earth, and Sat sri akal. In 2009, Jag Jeodeye Deh Mele became a hit, and Tera Mera Ki Ristha with Jimmy Shergill was a hit.
Filmmaker Jaspal Bhatti from Chandigarh recalls the time when he made Mahaul Thek Hai. "We wanted to work with some actors who refused to be associated with Punjabi cinema. Now, actors like Jimmy Shergil have taken up Punjabi cinema." Jaspal Bhatti attributes the change to risk-taking in movie-making and good budgets. "Movie-makers are taking risks. The whole process of movie-making in Punjab has changed." There is no harm in hoping that someday we might see Shah Rukh Khan do a jat ja jina maud in a newer style!