Comedian Paintal dons mantle of teacher
Sonika Bhatia
Tribune News Service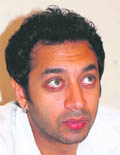 Hitendra Paintal
Dehradun, May 15
Dedication and hard work is the key to success. This is what veteran actor Kanwarjit Paintal, popularly known as Paintal, told the youngsters who came for the auditions organised by the Meerut-based Indian Film and Television Institute (IFTI) here today.Paintal is the Head of Department (HOD, Acting) in the institute. He was in the city along with his son Hitender Paintal and Gurdip Punj.
Paintal, who has been in the film industry for a long time, started his acting career at the age of 19 with "Umang" as the second lead under Gurudutt Films in 1969. Other than acting in movies as well as television shows, he also loves to teach the art of acting to aspiring actors.
Paintal, who hails from Delhi, joined the Film and Television Institute of India (FTII), Pune, at the age of 17. Once the student of the institute Paintal later became the HOD of the acting department.
Asked about the difference between the two institutes, he said the FTII is a government institute while IFTI is a private body and the functioning of both is different. "IFTI is the only institute in northern India that is directly associated with the Mumbai film industry," Paintal claimed.
Known for his notable roles of Rattan in "Jawani Diwani" (1972), Salma in "Rafoochakkar" (old), Guruji in "Bawarchi" (1972), Arun in "Piya Ka Ghar" (1972), Panditji in "Parichay" (1972), Totaram in "Jangal Mein Mangal" (1972), Kamal in "Heera Panna" (1973), headmaster in "Roti" (1974), Budh Anand in "Satte Pe Satta" (1982) and Champak Boomia in "Aaj Ki Taaza Khabar" (1973), Paintal is happy the way his career has been shaped.
He has played an important role as Shikhandi in BR Chopra's TV series "Mahabharat" and other roles in "Ladoo Singh Taxiwala", "Pyar Zindagi Hai", "Amber Dhara" and many more.
"I am very happy where I stand today. I got to share the screen with the biggies like Raj Kapoor, Balraj Sahani, Dilip Kumar, Sanjeev Kumar, etc," says an excited comedian who had won the Filmfare Award twice for Best Performance in Comic Role, one for "Bawarchi" and another for "Chala Murari Hero Banane" (1977).
On his visit to Dehradun, he said: "I have been here many a times as my sister-in-law used to stay here. I have also been to Mussoorie for shooting," Paintal reminisced.
Regarding the trend of reality shows, he said: "These shows provide a platform to the youngsters who have talent. The industry has got many talented artists through
these shows."
On being asked would he ever like to judge the realty show, Paintal said: "Though I am very busy with my acting and teaching schedule, if get a nice opportunity I would definitely take it."
"I never mixed my profession with my family responsibilities, so I am a happy man," Paintal stated.
When asked about the movies that are not doing well, he said: "In earlier times only 10 films were made out of which seven or eight were declared hit, but now more than 500 films are made. Moreover, watching films is getting costlier thus the audience is not able to watch all of these."
Paintal, who was last seen in "Kalo", a horror movie that was released in December last, would soon begin shooting for two untitled films in London. He wished to work with Aamir Khan, Salman Khan and Hrithik Roshan in future.
Never intended to be actor, says Hitendra Paintal
Hitendra Paintal, son of actor Kanwarjit Paintal, who entered the Bollywood with "Tere Liye" in a comic role and later worked in "Dil Maange More" and "Bachna Ae Haseeno", said he never intended to be an actor as he always preferred to be behind the camera but the destiny had in store something else for him.
"I have attained a degree in computer graphics and animation and was working behind the camera. When I got the opportunity to work in the movies, I thought to give it a try. Graphics and animation has taken a back seat as of now for me," he lamented
He has also worked in the TV serials "Yeh Hai Mere Apne", "Ada", "Kasauti Zindagi Kay", "CID" and many more.