PUNJAB

HARYANA

JAMMU & KASHMIR

HIMACHAL

REGIONAL BRIEFS

NATION

OPINIONS

LETTERS

BUSINESS

SPORTS

WORLD

Every Wednesday & Saturday

25 illegal ultrasound centres sealed
Owners cry foul; allege slow registration process
Jammu, May 17
In its recent drive under the PNDT Act, the Health Department sealed as many as 25 ultrasound centres for running without authorisation. However, not a single case of sex determination has come to light.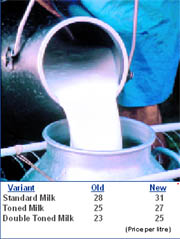 Prices rise by up to Rs 3
Now, milk to burn hole in pocket
Jammu, May 17
The decision of major dairy producers in the state to increase the milk prices by up to Rs 3 per litre with effect from May 16 has left Jammuites reassessing their monthly budget. The hike has been a cruel blow to a common man, as the petrol prices have also hiked by Rs 5 this week only. After petrol, now people will have to shell out more to buy milk and milk products as Surya and J&K Dairy Producers, Processing and Marketing Cooperative Union Limited have increased its milk prices by up to Rs 3 per litre.
Mobile schools for tribals
May 14, 2011
54,596 posts lying vacant in govt depts
May 11, 2011
Rights body chief 'misled'
May 7, 2011
CAPD Dept goes online
May 4, 2011
Over 100 stone crushers illegal in state
April 30, 2011
Juvenile boards in distress?
April 27, 2011
Heavy turnout, high expectations
April 23, 2011
Focus on heritage preservation
April 20, 2011
Untimely rain delays wheat harvesting
e-learning facility
April 16, 2011
CAG: University fails to use e-learning facility
April 13, 2011