An artist & a crusader

If the title is Elevated-Enlightened Human Body and the creator is none other than Jatin Das, one can safely predict some enlightened talk for an interactive session. This is exactly what happened during the press preview of the exhibition organised by Chandigarh Lalit Kala Akademi, which is celebrating the 150th Birth Anniversary of Rabindranath Tagore.






canvas magic

: Jatin Das delibrates on various issues of art.
The Regulator End of Sukhna Lake offers a quiet place to walk, exercise, meditate or just soak in the bounties of nature
There is nothing more powerful than a sight that pleases the soul, elevates the mood and soothes the nerves. We take a look at actresses who have made their debut opposite the prominent Khans—Salman Khan, Aamir Khan, Shah Rukh Khan and Saif Ali Khan. We evaluate the success stories of those actresses as of today.
Deepika Padukone with Shah Rukh Khan in Om Shanti Om: The exquisite beauty was a supermodel before she was signed on to play a double-role opposite SRK and Arjun Rampal in Om Shanti Om.

The Graduate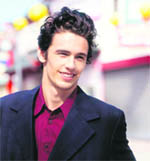 Hollywood actor James Franco has graduated with a masters degree in filmmaking from New York University's Tisch School of the Arts.The 33-year-old actor, who is currently a PhD student at Yale University, was dressed in the traditional purple robe and black mortarboard while accepting his degree.The 127 Hours star has already gained a degree in creative writing from Columbia University, as well as studying poetry at Warren Wilson College in North Carolina and fiction writing at Brooklyn College.The actor has recently enrolled into the University of Houston for another doctoral programme in literature and creative writing.

Will Demi's Magic work?
Actress Demi Moore is set to play a seductress in the upcoming movie Magic Mike inspired by actor Channing Tatum's experience as a stripper.

Acting happened by chance: Muskaan


Muskaan Arora, popularly known as Saakshi of Sahara One's Mata Ki Chowki, talks about her journey in the industry...
Playing a character with divine powers is an amazing feeling and you need to be really lucky to be known as one.

Average couple argues 2,455 times a year!
A new survey has discovered that the average couple bickers 2,455 times a year - equal to almost seven times a day.

Designs on the wall
Using stencils to paint your walls or furniture adds character and a personal touch to your living space. This is one of the oldest and easiest ways of decorating. If you want to try stenciling your walls on your own, make sure you keep these points in mind: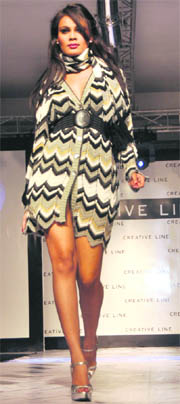 Line of control

: A model walks down the ramp during a fashion show organised by Creative Line to showcase their upcoming winter collection in Ludhiana on Friday. Photo: Himanshu Mahajan
The magic is missing
In Pirates of the Caribbean: On Stranger Tides, Johnny Depp returns as Captain Jack Sparrow, who is sought after by the British, fearsome Blackbeard, his daughter and former lover of Sparrow, Angelica (Cruz), just so that he could direct them towards the fountain of youth before the Spanish find it.
BOLLYWOOD GOSSIP
Ricky Bahl strikes in Goa. Here is a still from the shooting of Ladies vs. Ricky Bahl in Goa. Ricky Bahl is a conman who meets his match in the character of Anushka Sharma. Anushka looks gorgeous. No wonder that Ranveer Singh has eyes only for her.
How you say it, matters
In what could be an invaluable advice to salesmen and politicians, a new study has found that when it comes to persuasion, the secret is not what you say — but how you actually say it.