astro turf
P Khurrana
ARIES: Love stars achieve steady glow. Routine work will be neglected. Work conditions will continue to be favorable. Students will enjoy their studies and make some very valuable friends as well. Answers to problems can amaze you with their simplicity. Tarot Message: Watch your tendency to overspend the budget. Lucky colour: Navy Blue. Magic Number: 25
TAURUS: Settle legal tangles through compromise. Be cautious while dealing with business partner. Treat your possessions with great care and they will serve you well. The efforts you make for your property will pay off. This is also a good day to go bargain hunting. Tarot Message: Don't bite off more than you can chew. Lucky colour: Red.Magic Number: 64
GEMINI: An important piece of news comes through mail. Be aware of your words and actions. An issue over money may cause problems. A small windfall might solve your financial difficulties. But if you are wise, you will look at possible investments to improve your future. Tarot Message: Take help of yoga to overcome your anxiety. Lucky colour: Black. Magic Number: 50
CANCER: Realize your potential. A relative creates a problem. Students will get more job satisfaction from creative work. This is the time to start new projects and implement plans. Tie up the loose ends of contracts, writing assignments and software programs. You may be out on the road all day. Tarot Message: Concentrate on your routine work. Lucky colour: Turquoise. Magic Number: 40
LEO: There are changes today whether or not you are prepared for it. Marriage proposal is there though mail. You will be on the lookout for new experiences, perhaps new love. You will be impulsive and can overstep your budget. A lover's quarrel might result in deeper understanding. Tarot Message: Results are guaranteed if you stick to arrangements. Lucky colour: Peach. Magic Number: 33.
VIRGO: Early morning irritability will disappear once you eat a good breakfast. Some of you might be working on a personal project. Young lovers might be wrapped in each other's embrace, while old lovers might enjoy renewed passion. Seek professional advice before relying on gut feeling. Tarot Message: New offers must be put on hold. Lucky colour: Aqua. Magic Number: 56.
LIBRA: A splendid day. Lovers should expect a couple of surprises. A pressing appointment might be held up by all sorts of minor irritations. Do not lose your cool. A business agreement or contract may be approved, but still awaits finalisation. Tarot Message: You need to take frequent breaks at work. Lucky colour: Cream. Magic Number: 45
SCORPIO: Good friends and laughter are the stars today. Work can seem more like a social event, with fun-loving customers or a meeting of associates to train and discuss new business systems. You maybe welcoming a new family member. Tarot Message: Don't let anyone dictate what you should do. Lucky colour: Golden Brown. Magic Number: 61.
SAGITTARIUS: Your card reveals love, care and enthusiasm. Be kind to yourself and plan something special for yourself. Job seekers are likely to find full-time employment, which offers security. A secret love affair that has reached the depth of commitment . Tarot Message: Try to forget your failures and mistakes. Lucky colour: Orange. Magic Number: 58.
CAPRICORN: Look forward to a productive day. Hard work should be paying off. You can start to gain the financial freedom you have been working towards. Communication difficulties may be a blessing in disguise, leaving you alone to get your work done. Tarot Message: Stay grounded and practical. Lucky colour: Yellow. Magic Number: 43
AQUARIUS: Act with initiative and independence. Financial transactions are favorable. You are trying very hard to improve your appearance and well-being. A membership in the local gym might be on the cards. Social interactions are starred later in the day. Tarot Message: Go slow and reaffirm your boundaries. Lucky colour: Yellow. Magic Number: 32.
PISCES: Harmonious trends prevail, although the morning could be a bit tricky. Luck and good fortune look like they'll be following you today, so this is great time to get into these projects you love. Relationships are at the top of your list. Tarot Message: Take one step at a time to climb the ladder of success. Lucky colour: Crimson. Magic Number: 51
Back in kitchen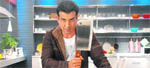 Knife point: Ronit Roy
Busybee Ronit Roy will be back hosting the famous cookery show Kitchen Champion on Colors. The actor-host will be accompanied by 12 beautiful ladies from the television world namely Dia and Jahnvi of Na Aana Is Des Laado, Parul Chauhan, Anandi aka Pratuysha, Neha Marda, Devki of Mukti Bandhan and more. The show has an interesting concept. Having hosted all three seasons, Ronit is looking forward to Kitchen Champion 4.
Why you should watch it: Kitchen politics and competition of a different kind with a fun-loving Ronit Roy.
Launching on May 23 at 1pm.
Hamari Saas Leela
Back on the saas brigade, producer Asit Modi's new show on Colors features the very famous saas—Apara Mehta. She is back with a bang in Hamari Saas Leela, a new show based on the life of a Gujarati family, where Apara plays the protagonist Leela, who has a middle-class upbringing. Unlike her previous roles, she doesn't play a grey character but projects the qualities of a woman who has faced tough times in life, but now is rich! She plays a loved mother who is searching for perfect bahus for her four adorable sons!
Why you should watch it: For the brilliant Apara Mehta and producer Asit Modi who gave the super hit Tarak Mehta.
Launching at 30 May, Monday-Friday at 7pm.
X-Factor

Idol situation: Sonu Nigam
After Indian Idol, Sony Entertainment Television brings yet another musical reality show—X-Factor. Sony brings the desi version of X-Factor which is a hit musical reality show in the US. This Indian version is touted as the channel's biggest show ever. With reality shows bringing in mega bucks in India, Sony TV is betting a lot on this show especially after Indian Idol. The show has Sonu Nigam an accomplished and celebrated singer, as judge along with producer director Sanjay Leela Bhansali. The third judge is the talented singer Shreya Ghoshal. Aditya Narayan will host the show.
Why you should watch it: for the S-factor, three judges who are supremely talented.
Launching on May 29 at 9pm and then on every Friday - Saturday at 9pm on Sony.
Li'l Champs
After Dance Ke Superstars, Zee TV is gearing up for the next season of Sa Re Ga Ma Pa Li'l Champs. Joining the show as judges is the Kashmiri Indian pop singer, Kailash Kher, and the actor composer from Pakistan, Adnan Sami.
Ishaan Kashyap aka Jay Soni, of Sasural Genda Phool will host the show along with talented kids Afsha Musani and Dhairya Sonecha, the li'l anchors of 2009.
Why you should watch it: For Jay Soni's debut as host and talented kids.
Launching on the 1st week June on Zee.
Sach Ka Samna

Facing the truth: Rajeev Khandelwal
The super hit show, Sach Ka Saamna, which courted many controversies, will be back with a rocking second season. Instead of Star Plus, the show will air on Star One, with the dashing actor cum host Rajeev Khandelwal playing host for the second time in this Siddharth Basu's Big Synergy production.
The desi version of Moment Of Truth, with Rs 1crore prize money, had a great first run with the show opening with 4.9 points. Why you should watch it: Interesting concept and dishy Rajeev Khandelwal.
—HRM
The year ahead
Madan Gupta Spatu
If your birthday is May 21...
Over the next few months Jupiter and Saturn will offer both sensuality and pragmatism - an unusual combination - but one that's sure to make your life much more comfortable, enjoyable and romantic. In July, you will become very practical. You couldn't ask for a better time for a total makeover, either for yourself or your home or both! September will bring a pleasant alignment in your business or service. A perfect tuning with a partner, spouse, friend or even boss or colleagues is on the cards. You'll feel a bit more romantic than usual and you are likely to experience moments here and there of near-bliss! January 2012 is the best time to focus on areas where you and your partner are sure to see eye-to-eye; try to push everything else aside for another calm day. With certain more planets lining up, the time is right to boost your love life or improve your married life.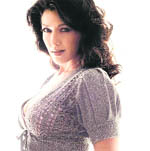 Aditi Gowitrikar (May 21, 1976, Mumbai) is a model, actress and a physician. She was selected Mrs World. She started her career as a model after winning the Gladrags contest in 1996.
She has done notable roles in many Hindi as well as South Indian films and has also done several commercials. She has won the Asian Super Model Contest (1997), Gladrags Contest, Mrs World (2001). She has also appeared on the Indian Elle magazine's cover in 1999. Born under Gemini sign, 2011-12 promises some extra shots for her.
Dj KK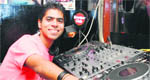 Song - Loosing My religion
Artist - REM
Genre - Rock
For those who are addicted to rock, this is a favourite song of many, including me. Once this track reaches your playlist, it has the ability to just stay there. Moreover, the music and lyrics are commendable too.
(As told to Manpriya Khurana)