Mayawati blows poll bugle in Haridwar
Sandeep Rawat
Tribune News Service
Haridwar, May 22
Being the third largest party in terms of legislators in Uttarakhand, the Bahujan Samaj Party is pinning its hope on Mayawati's magic and good governance in Uttar Pradesh to see it sail through in the coming state assembly election.
This was categorically stated by BSP supremo Mayawati when she urged party workers to gear up for the election from today asking voters to vote for the party due to its pro-poor approach and development-oriented governance in Uttar Pradesh which could be replicated in Uttarakhand too if the party came to power.
She was in Haridwar today to address a one-day party convention of all assembly segments of Uttarakhand at Rishikul in which more than 15,000 party workers participated giving a fillip to the party's prospect in the state.
Mayawati urged them to do more ground work, increase the party base, strengthen organisational structure and refrain from publicity as eventually their work would speak and the Elephant (Party Symbol) would climb the hills (hinting the hilly regions of the Uttarakhand).
Refuting speculations of any tie-up with the BJP or like-minded parties in Uttarakhand, Mayawati dismissed any such prospects saying that her
party would be contesting elections both in Uttarakhand and Uttar Pradesh on their own as both
BJP-Congress were anti-commom man.
Meanwhile, on the national level, Mayawati lashed at the Congress and the BJP for maligning the BSP's pro-farmers image over the ongoing controversy in Bhatta Parsaul. She said the media was also being used by these parties to send out a wrong message but it's the farmers themselves who know that the BSP government had always been
with them.
Dozens of politicians and social activists joined the party in the presence of party supremo, Uttarakhand in charge Ram Achal Rajbhar, Uttarakhand party chief Meghraj, legislator Mohammed Shahzad, district panchayat chairperson Anjum Begum among others.

Sidelights
A friend indeed!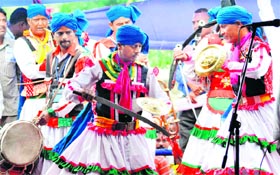 Artistes from Kumaon perform a folk dance on the BSP rally venue in Haridwar on Sunday. A Tribune photograph
A significance attached to the Uttarakhand party convention by the BSP high command can be gauged by the fact that normally rallies addressed by Mayawati are only centred around her, but today in Haridwar the party's pro-hill people face was evident clearly. A special stage was erected where folk artistes from Uttarakhand mesmerised everyone at the venue, including Mayawati. Apart from this, the first preference was given to party workers from hilly regions whom Mayawati too thanked for coming from in this scorching summer season.
But not media-friendly
While every political party wants to give their meetings the maximum media coverage, it's not so with UP Chief Minister as after taking seat on the dais, announcement from the stage was made that now the media can gracefully leave the venue as Mayawati will address party workers without them. This infuriated the media but not much they could do as BSP party leaders and police officials asked them to gradually leave the venue as per high command directives.
Party poopers
With war of words on between Congress chief Sonia Gandhi, general secretary Rahul Gandhi and UP CM Mayawati, Congress activists marched towards the venue spot to protest Mayawati's remarks on their party leaders. Under the Women Kissan Cell, party workers with black flags even went past the police barricade at Chandracharya chowk giving shivers to police personnel on duty. Soon ASP Nivedita Kukreti arrived and protesting activists were arrested thwarting the Congress plan of showing protesting flags to the Mayawati's cavalcade.
Craze for stickers, books
Adjacent to the convention venue, books, printed materials, badges, stickers, flags, posters of Lord Buddha, Babasaheb Ambedkar, Kashi Ram and Mayawati sold like hot cakes. Even Mayawati urged party workers to read a book compiled by her on dos and don'ts as well as a booklet featuring her government achievements in the past four years of her tenure.
Maya and magic
Though BSP leaders had expected a crowd of 10,000, party workers more than the expected figure from various areas of the state thronged the venue. Even around 1:20pm when Mayawati completed her address, DFMD entry points were still witnessing serpentine queues as people, particularly women, were pouring in which indicates the popularity of the dalit leader.