e-tax system for dealers from next month
Shimla, May 25
The Excise and Taxation Department will finally switch over to e-tax administration next month, one year behind the original deadline.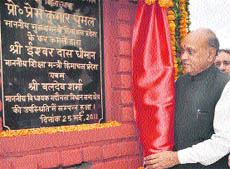 Carbon credit project to benefit villagers: CM
Bhota (Hamirpur), May 25
Chief Minister PK Dhumal said the recent agreement signed by the state government with the World Bank would pave way for the world's biggest carbon credit project in the state through which a large number of villagers would be benefited.

PK Dhumal lays foundation stone of a PHC building at Bhota on Wednesday.

Cong seeks probe into eco-tourism projects
Shimla, May 25
Alleging that the BJP government was using eco-tourism as a pretext to give away the state's precious forests to private companies, Congress General Secretary Kuldeep Rathore today demanded a probe into the allotment of eco-tourism projects by an independent agency like the CBI.

Tanda passout tops PGI entrance test
Kangra, May 25
Dr Gaurav Sharma, who passed his medical graduation from Dr RP Government Medical College at Tanda in 2008, has topped the MD/MS entrance examination for PGIMER, Chandigarh, and secured 98 percentile.


Dr Gaurav Sharma

Three from Hamirpur clear IIT test


Hamirpur, May 25
Three students of the local Him Academy Public School have qualified the IIT entrance test. While siblings Harish Ranaut (rank 1126) and Ashish Ranaut (rank 990) from a village near Hamirpur have qualified this test, a boy from Kangra studying here, Vikas Sharma (rank 8826), has also qualified the IIT entrance test.
Snow cleared on Keylong road
Kullu, May 25
Deputy Commissioner BM Nanta said here yesterday that the road between Manali and Keylong was through as the Border Road Organisation (BRO) had cleared 50-60 ft snowfall on the 13,050-ft-high Rohtang Pass. However, traffic had to be regulated as only single-lane road was available before throwing the road open for vehicular traffic.
Power cuts hit Chamba
Chamba, May 25
The problems of people have increased even more due to the power failure in the town and other areas as they were already facing problem of frequent power tripping even after a spell of rain and mild storm for the past some days.
Kidnapped child rescued
Nurpur, May 25
Passengers of Jwalaji-bound bus today caught an alleged kidnapper Sanjiv Kumar (38) of Ropar, Punjab, and handed him over to the police at Jassur near here today.