Land auction cancelled
Amaninder Pal/TNS
Jalandhar, June 1
In an open violation of the laid down norms that the panchayats could not lease the village common land for the non-agricultural purpose without prior permission of the government, the panchayat of Nangal Araiyaan village has allegedly leased six acres of the village common land for sand mining without taking government's approval.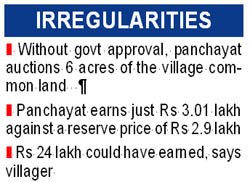 Worse still, the whole chunk of land was leased for the total amount of Rs 3.01 lakh (reserve price was fixed at Rs 2.9 lakh) against the prevailing market price of over Rs 1 lakh/acre/feet, alleged complainant Hariqbal Singh, resident of the village.
"As the panchayat had advertised to lease six acres for the earth excavation up to four feet depth, the total leasing cost should be around Rs 24-25 lakh," he alleged here today.
As per the amendments made in the Punjab Village Common Land (Regulation) Rules 1964 by the Department of Rural Development and Panchayati Raj, the state government has forbade the panchayats to lease the agricultural village common land for non-agricultural purposes without government's consent, he added.
"Earlier, the auction for the said land was scheduled on May 3. However, due to some domestic reasons, the sarpanch and three panchayat members, who are hand in glove with sarpanch, did not turn up for the auction," alleged Hariqbal.
"Later, the authorities had verbally informed us that the fresh auction would be held on May 18. However, on May 18, we got to know that the land had already been leased for the purpose of earth quarrying on May 14," he alleged.
Later, after the complaint filed to ADC (Development), the Block Development Project Officer, Bhogpur, cancelled the auction on May 18. BDPO, Bhogpur, Sewa Singh was not available for his comments.
Sarpanch Asha Rani also could not be contacted. Surinder Pal, her husband, claimed that the issue had been raised only due to tussle between the two opposite groups in village. He added that the panchayat was ready to re-auction the land. He added that the land was leased for excavation as it was uneven.
Five booked for illegal mining
Nakodar: The Mehtpur police booked five persons for illegal mining of sand on Tuesday evening. The SHO of the Mehtpur police station, Bimal Kant, said acting on a tip-off, a police party along with Mining Officer of the area Haripal raided a place of Asha Rani of Lohgarh village and found that illegal excavation of sand was being performed there. The accused have been identified as Asha Rani, Dhyan Singh, Raj Pal, Sukhdev Singh and Balwinder Singh. Equipment used for mining was also confiscated by the police.— OC