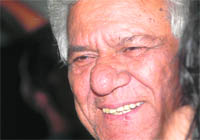 To WEST, with love
A typical press conference never looked like this. Bouncers were amiss, there was no area condoned off for the celebrities; till now, what has always been the privilege of scribes was being enjoyed by the residents of Jayanti Majri, who occupied the front rows. So, we gingerly entered the hall and found some space, from where we could manage to interview the cast of West is West — Om Puri, Ila Arun, Raj Bhansali and the producer Leslee Udwin.
Breaking ground

Singer, TV personality and actor Karmjit Anmol is thrilled. And he has reasons to be, as he is part of the most awaited Hollywood project West is West along with none other than actor Om Puri. As the film, a sequel to East is East, comes out for audience vote, Anmol says he has just reached the first step in his career and has a lot more to learn. Anmol, a familiar face in Punjabi TV and music industry, belongs to Ganduan village in Sunam town, Sangrur district, and presently lives in Mohali.

New role: Karmjit Anmol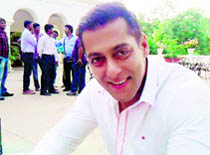 PATIALA peg!
With its ancient buildings and beautiful gardens, Patiala has become a preferred choice of many directors of not only Punjabi films, but also Bollywood flicks. Magnificent forts and historical buildings like Qila Mubarak, Sheesh Mahal, Moti Bagh Palace and Baradari Gardens, Patiala is certainly drawing the attention of Bollywood stars as well.


star lit: Salman Khan
Karan's back in action


Popular show on Star One Dill Mill Gayye went off air, the handsome hunk Karan Singh Grover aka Dr Armaan has been away from action. He is all set to return with Channel V's Dil Dosti and Dance produced by Cinevistaas. Karan will make a guest appearance in Dil Dosti and Dance as a celebrity judge for a competition between boys and girls. He will be present to promote his show Perfect Couple on Channel V.

show time: Karan Singh Grover
Love in Thailand
Shveta Salve recently got engaged to her boyfriend Harmeet Sethi, but the couple's tightlipped about it. Harmeet proposed to Shveta when they were on a vacation in Thailand last month and it was a very spontaneous decision to get engaged.

holiday romance: Shveta Salve
Different films don't always work: Arunoday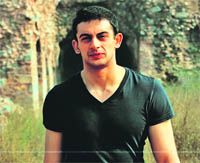 Bollywood actor Arunoday Singh, who began his career with a negative role in Sikander, feels that experimentation in Bollywood is not always successful. "Experimentation can only help if a film is made in a right way. One can't do experiments just because others are doing it. Also, it's not necessary that so-called hatke film will turn out to be good," said Arunoday, grandson of late Congress leader Arjun Singh. "I have seen some terrible commercial movies which changed my definition of good cinema.

trial and error: Arunoday Singh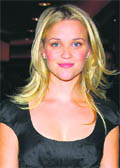 Miss goody two shoes
Awards ceremonies generally have not been known for promoting wholesome values with shows like Skins and Jersey Shore, but actress Reese Witherspoon's words of wisdom that she sent to her female fans and fellow screen stars during the awards ceremony certainly proved to be a refreshing change.




atta girl: Reese Witherspoon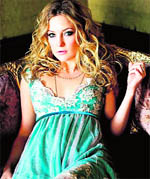 Weight watch
Hollywood star Jennifer Hudson, who lost a whopping 80lbs in two years, now wants to inspire people who are coping with weight loss by sharing tips from her diet regime. The 29-year-old will be writing a book sharing her best tips to lose weight and about how her unhealthy eating habits began at an early age, reported a publication. "Jennifer wants to inspire anyone coping with weight issues, share some of her own best tips for losing and maintaining weight loss, fitting in exercise and keeping it fun," said the publishing house, Dutton, who will release the book in January 2012.

book wise: Kate Hudson
Man Friday
Riteish Deshmukh and Genelia D'souza have not made their relationship official but Genelia consults Riteish on everything, big and small.
Please stop!


Celebrities should stop wearing ripped clothes. They look cheap. Case in point: Sonakshi Sinha and Priyanka Chopra. They aren't setting a good trend. Ripped jeans should be banned!




Give us a break:

Priyanka Chopra
in splits: Sonakshi Sinha
Reunion tour
They had called it quits a few days ago but Hollywood couple Sean Penn and Scarlett Johansson have sparked rumours of a re-union after they posed together backstage at a recent award function.
the 'in' side
Bar bar dekho…
A bar at home is an ideal place to entertain your friends or retire to at the end of a busy day. Here are some tips to make it an interesting place to chill:
GET PHYSICAL
Put your feet up
"Sarva" means the whole; "Anga" means body or limb. Hence, the "Sarvanga" is the whole body, all the limbs. The name is derived from the fact that the whole body benefits from this posture. It is one of the many inverted poses of yoga, all of which are extremely beneficial. Inverted poses help to tone and stretch the body by working against the force of gravity. There are many health benefits of practicing this pose on a regular basis.
TROUBLE SHOOTER
Fight the battle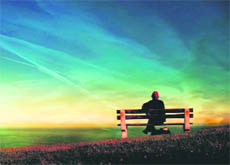 My husband and I have had problems ever since our wedding. I stayed separately for some time too. He controls everything, including finances; he does not socialise and does not have any friends himself. He has also banned us from meeting my side of the family. He is in a good position and none can tell at work that he is like this. He and I hardly talk and he tries to manipulate the children. He is very rude to me and often abusive. My son has depression. My parents are always willing to support me and I am working. How can I help my son?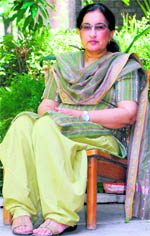 KEEPING THE FAITH
Reach out to the Universe
If we understand that the soul, like the universe, is indestructible, it follows then that the soul's journey never ends. But in our physical life as human beings, we have a chance to experience stages of this infinite process. There is no better way to experience this than a trek in the mountains. Plodding through my everyday existence-earning a livelihood, absorbed in materiality both within and outside - was like trudging wearily through the fields of the plains or the hard streets of urban jungles. Then I came across guides who pointed in a different direction - towards the hills.


Soul's journey: Pushpinder Syal
Hold and behold


Belts have been a fashion statement for a long time- no one really uses them to hold their pants up anymore, well that is considered uncouth these days! For this season accentuate your waist with a wide belt or add a chic look with an empire waist belt. They give you an amazing silhouette.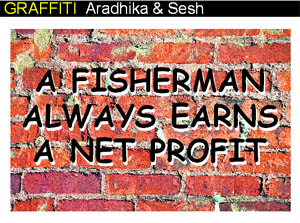 Inspiration behind DK Bose?
Dolly Bindra's quick temper and expletive ridden language on Bigg Boss 4 inspired catfights and tears. But, as it turns out, her foul mouth also inspired a song and it's none other than the grunge rock number Bhaag DK Bose from the Imran Khan starrer Delhi Belly. Now, the chart-topper Bhaag... has raised eyebrows ever since it came out, and become quite a rage as well. But, Dolly Bindra's expletive-spewing stint on Bigg Boss, from which the song was inspired, was not even half as popular.

time out
Rani Mukerji enjoyed a Hollywood movie (either Hangover 2 or Kung Fu Panda 2) with her close friend, choreographer Vaibhavi Merchant over the weekend. They went to a multiplex in Juhu, suburban Mumbai.





Image makeover
Prachi Desai will undergo an image makeover for The Informer. The movie is produced by the Bhatts and she is paired opposite Emraan Hashmi. She will not kiss him but she will be transformed into a seductress and do some intimate scenes with him.
chatter box
Star mantras