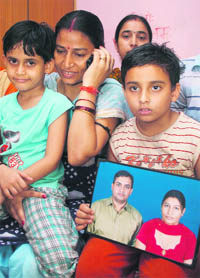 Merchant Navy Officer's Release
Jammu family thanks Pak, Burney
Jammu, June 14
Despite India's strained relations with Pakistan, a Jammu family is thankful to the Sindh Governor and Ansar Burney, noted human rights activist, for the release of a Merchant Navy officer by Somali pirates. The family claims that a ransom of Rs 10.5 crore was paid to the pirates with the ship owner and Burney each contributing half of the amount. The officer, Narottam Kumar Sharma, was one of the six Indians released by the pirates, near Egypt, along with four Pakistan nationals, six Sri Lankans and 11 Egyptians today after remaining in captivity for over 10 months.


Madhu Sharma, wife of released Merchant Navy officer Narottam Kumar Sharma, with her children at her home in Jammu on Tuesday. Tribune photo: Inderjeet Singh

Former ultra donates blood 21 times


Jammu, June 14
Khalid Bashir Mughal, alias Papu Mughal, a former militant of the Hizbul Mujahideen, has donated blood 21 times. Mughal was motivated to donate blood by some Good Samaritans and he made it a mission of his life. "Helping a needy person is the best way to serve humanity," Mughal told The Tribune over the phone from the Bhadewah area of Doda district.
Khalid Bashir Mughal
Admission process on, colleges without re-affiliation
Jammu, June 14
Despite drawing flak for the mess in the elementary teachers training (ETT), the state government has failed to curb malpractices in the process and provide a fair education system to students, mostly from the neighbouring states of Punjab and Haryana.
Blood donation camp held
Srinagar, June 14
To commemorate World Donor Day, a blood donation camp was organised at the Kashmir University Campus today. It was organised at the Department of Students Welfare in collaboration with the Jammu and Kashmir State AIDS Control Society, the Health Department and the Hussaini Relief Society, Srinagar.
Hideout busted
Srinagar, June 14
The security forces busted a hideout and recovered a huge cache of arms and ammunition from Behak village in the Trehgam area along the Line of Control (LoC) in Kupwara district last night.
Girl found dead
Jammu, June 14
A 14-year-old girl was found dead under mysterious circumstances at the house of her employer in Bhaderwah today.
Probe sought into construction of varsity building
Jammu, June 14
The National Secular Forum (NSF) today urged Governor NN Vohra to order a probe into the "substandard" material used in the construction of the building of the University of Jammu over the last three years.
Two drug peddlers held
Jammu, June 14
The police arrested two drug peddlers and seized 2,200 intoxicant capsules from their possession in the Bus Stand area last night.
Kashmir varsity VC calls on Governor
Srinagar, June 14
The Vice-Chancellor, Kashmir University, Dr Talat Ahmad, called on Governor NN Vohra at Raj Bhavan here today. During the meeting, the Governor, who is also the Chancellor of the university, discussed with Dr Ahmad various matters relating to the achievement of excellence in different areas of learning and research and in the overall academic environment of the university.
HC sets aside dismissal of officer
Jammu, June 14
A Division Bench of the Jammu and Kashmir High Court, comprising Justice Hakim Imtiyaz Hussain and Justice Sunil Hali, while setting aside a judgement and decree dated January 22, 2001, by the First Appellate Court and upholding a judgement and decree dated February 7, 1998, passed by the Second Additional District Judge, Jammu, held that "It is a settled principle of service jurisprudence that an order of dismissal or removal from service can be passed by the appointing authority or the authority which is equivalent to the status of the appointing authority. Since the appointing authority is admittedly the Board of Directors, as such, the power of dismissal was passed by an incompetent authority".