Serial killers!


It's raining actors from Chandigarh! After Angad Hasija, Gurmeet Chaudhary and Harish Verma, there's another lot of youngsters who have shifted base to Mumbai in a bid to join the Indian television industry. They have gone through their bit of struggle, have done their share of hardwork and now have got their due in the industry. Here's getting to know some of the television stars who very recently made it to the small screen.
ANIMATED to perfection


As promised, Day 2 of the workshop organised by the National School of Media had its tadka of fun. The workshop by an animation school translated into a great interactive activity for students, who could share ideas with experts of the animation industry. One such expert invited to town is Chandarshekhar Thanvi, the head VFX Eros Eyeque studios, Mumbai. His journey into the animation world began nine years back, when he completed post-graduation in Advertising and Public Relations from the famous KC College, Mumbai.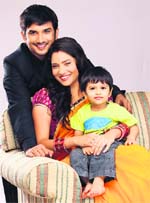 chatter box
New beginning for Manav and Archana
Ardent fans of Zee TV's Pavitra Rishta, watch out for a big time leap on your favorite dinnertime soap! Yes, producer Ekta Kapoor has taken the remote control out of your hands and pressed the 'fast forward' button, taking the touching story of India's darlings Manav and Archana ahead by a whopping 4 years with a new look. An Indya source tells us that, "The ideal Indian lovers will now the proud parents of a tiny tot … and Manav has had a change of fortune … the very family that rescued him after his car accident observes him to be an honest, upright man and appoints him as a senior official in their construction business.
NEW RELEASES
Karan—Yashashri bond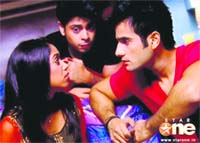 Karan Godwan has recently entered Rang Badalti Odhani on STAR One but he and co-star Yashashri Masurkar get along like a house on fire. Both of them who are known to be pranksters on the set love pulling each others leg and laughing out loud. Yashashri laughs " Karan troubles me a lot and corrects everything that I say. On a serious note he is a very good guy and co-actor."It is nice to see co-stars bonding so well, we are sure some others can take tips from this duo.

Orlando Bloom voted most stylish celebrity dad

Emma Watson dating Johnny Simmons?

Iron charm
This beautiful rustic material has a long history of being used in interior decoration. Most of the wrought iron pieces have a strong influence of European designs. Wrought iron blends well with many decorating styles, therefore don't hesitate incorporating it in your own home.


Cotton BAZAAR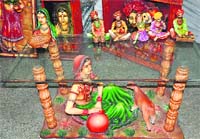 Cotton Show 2011 on at Lajpat Rai Bhavan-15 is a small market catering to those looking for fabric, ready-mades, toys, furniture and more! Out of some 30 stalls here, the one selling Chanderi cotton suits priced at Rs 900 onwards seems a universal favourite as women take a pick at suits in soft colours-lemons, onion pinks and assorted greens. There are a whole lot of suits both stitched and unstitched available here.
Boom blast
Well the craze for the best and the most gizmotic car audio systems has always created a buzz among music lovers. Hunt for the best of the best music systems to amplifiers to woofers, from customising casing of the audio attachments to modifying the car to fit these boom-boom machines has held its charisma from ages and it still continues to speed up heartbeats with the sound punches. Spending ones first salary cheque, or complete pocket money just to add that one additional woofer in your running machine has become quite a common practice among sound lovers but how about spending a mind boggling amount of Rs 1.35 crore to customise the vocal cords of your car? Does not it stretch your neurons and make you feel the need of a pacemaker to remain calm!
Flash(back) forward
This one is an out-and-out experimental track. You don't expect music composers to draw inspiration from the 60's in times when contemporary music forms, rock and rap are the most preferred. O Rahi is a like a flashback in time, when jazz used to be the only modern genre of music.
WEIGHTY issue
Women do not take to weight training. The myth that working out with the weights will make them look like female body builders is the reason behind their reluctance. It is far from the truth. Women do not, and cannot, naturally produce as much testosterone (one of the main hormones responsible to increase muscle size) as men. Therefore it is impossible for a woman to gain huge muscle mass merely by doing some weight training.