Some Karachi-based Indians willing to work with LeT: Headley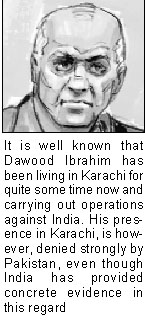 Washington, June 18
Some Indians living in Karachi were willing to work with Lashkar-e-Toiba to carry out terror attacks in India, David Headley has said, apparently referring to underworld don Dawood Ibrahim, who is based in the port city of Pakistan.
During his five-day testimony before a 12-member jury of a Chicago court that conducted the trial of Mumbai attacks co-accused Tahawwur Rana, Headley made the reference to "some" Karachi-based Indians willing to work with LeT leader Abdur Rehman Hashim Syed aka Pasha for executing terrorist attacks inside India.
In response to a question during the testimony, Headley, a Pakistani-American LeT operative, told the court that Pasha had travelled to Karachi to meet these Indians.
It is well known that Dawood Ibrahim has been living in Karachi for quite some time now and carrying out operations against India. His presence in Karachi, is however, denied strongly by Pakistan, even though India has provided concrete evidence in this regard.
"... he (Pasha) had nationals of India who wanted to work in India," Headley said in response to a question.
"Who did Pasha have?" he was asked. "He had some Indian nationals in Karachi," Headley said.
"Okay. And when you say work, what were they going to do?" the attorney asked again. "Carry out attacks in India," Headley said in response.
Headley said after being encouraged by the success of the Mumbai terrorist attacks, Al-Qaida commander Ilyas Kashmiri wanted him to travel to India again and carry out surveillance for another set of targets, which included the National Defence College in New Delhi and Chabad houses across the country.
"He said his leadership was very upset about the recent Israeli bombing in the Gaza Strip, which was in January of that year, and they wanted to retaliate in some way. So he wanted me to go and look at the Chabad Houses again in India," Headley said, referring to his conversation with Kashmiri after the Mumbai attacks for which he said the Al-Qaida leader was very pleased.
By leadership, he meant that the individual was the Al-Qaida number three, whom Headley identified as one "al Masri". Headley said he agreed to go back to India for further surveillance as the leadership desired. The list of Chabad houses for surveillance was given to him by Pasha, who also directed him to go to National Defence College in New Delhi.
"He (Pasha) said if we were able to conduct an attack on it, we would be able to kill more brigadiers in the Indian army than had been killed in the four wars that Pakistan and India had fought previously," Headley told the court, adding that he received money for tickets, airfare and travelling expenses from Pasha.
Headley said he copied and pasted this list of Chabad houses in India in a secure email, which was created for security purposes by Rana.
"I thought it would be more secure if I wanted to access it in India," Headley said.
"Why didn't you just keep a handwritten list on your person?" the attorney asked.
"So that if I was stopped and somebody found a list in my pocket, it would not seem right," he responded.
While in India, Headley said he visited New Delhi, Pushkar and Goa. He carried a camera for video surveillance at all these three places and made observations about each location.
In Delhi, he said, he visited National Defence College at least three-four times and took video of the place. The security at the National Defence College, he said, was lax. "I did see a few going in and out of the place. And I noticed the guards seemed very lax," Headley said. — PTI