Centrestage
KASHMIR'S ANGELS OF CHANGE
The just concluded Panchayat election in J & K has witnessed the young and the unusual jump into the fray and win against odds, defying caste and communal considerations.
Ehsan Fazili & Jupinderjit Singh
The Pachayat election in Jammu & Kashmir, stretching over two months since April this year for security reasons, has been hailed as historic. This is not only because of the large turnout of voters, who defied the call of separatists to boycott the election, or because of its peaceful nature-but also because of the historic opportunity that it provides.
The election for the panchayats in the sensitive state, for all practical purposes, was held this year after a gap of 33 years. Although elections were held in the year 2000-2001, the institutions simply failed to function. But an entire, new generation shook off the past to give grassroots democracy a chance.
The expectations generated by the election are sky high and the Chief Minister , Omar Abdullah, appears conscious of the burden. He is on record as saying that he expects the panchayats to get involved in development work and also in monitoring the work of state government departments.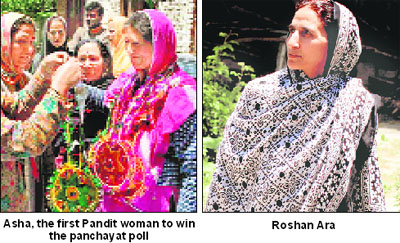 Time will tell if the panchayats and the elected representatives are able to fight corruption, one of the most serious problems in the state, and monitor the quality of development work. But unless they are allowed sufficient power and resources to deliver on their promises, it will again be an opportunity lost. Neither the country nor Jammu & Kashmir, one of the most underdeveloped states of the country and beset with war, militancy, hostility and harsh weather conditions, can afford it.
The election is also historic because a new breed of young, educated and determined leaders has emerged to work for the state. Some of them won the election and some of them lost. But both groups of people spell hope for the state.
Gurmeet Singh Bajwa, an MBA from UK, contested and won in a remote border village of R.S. Pura. Parikshit Singh, an engineering graduate, also left his government job to return to his village. Rabinder Singh Binder, brother of Ranjeet Singh Neeta, a well known Khalistan ideologue and one of the top 20 most wanted militants, also contested the election and won, supported by non-Sikh voters.
Victory of Khalid Bashir Mughal from a Hindu dominated Panchayat of Bhaderwah district was also a remarkable example as was the victory of the first Pandit woman, Asha, to win the election with the support of mostly Muslim villagers.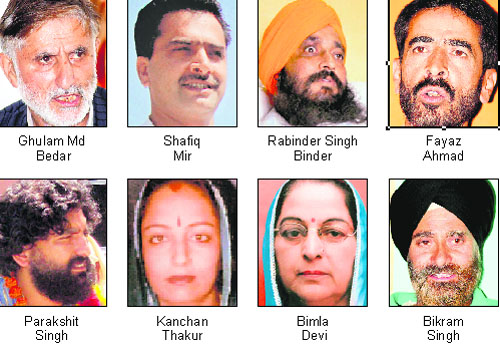 Election of Kanchan Thakur, a housewife of Budhal, who witnessed the infamous Sawari massacre of Rajouri when eight members of her family were killed by militants, is also remarkable for her resolve to work for the community, leaving the past behind. The Tribune spoke to some of these remarkable men and women.
"Our area is one of the poorest in the entire district. Two decades of
turmoil has ruined everything here," says Fayaz Ahmed Naiko and his wife Roshan Ara. While Fayaz has won the election for Sarpanch, his wife too has been elected a panch.
People in his Block are so poor that ten people lived in one-room houses and many have no means to support the family. "My priority is to get a house sanctioned for such people under the Indira Awas Yojna and secure them employment under MGNREGA and other schemes . Militancy has left scores of women widowed and he would like to provide them some relief and resources to raise their children.
"Corruption rules the roost in Kashmir and to get the smallest work done, one has to pay huge bribes," points out Naiko, the son of an ex-serviceman.
An influential and affluent fruit grower in the apple rich village of Hygam, which has a mixed population of both Shia and Sunni community, Ghulam Mohammad Bedar, who belongs to the Shia community, secured votes in the Sunni dominated areas as well.
He works through an NGO that supports poor children to pursue their studies. Under the Right to Information Act he exposed several officials of the district administration who had issued houses under Indira Awas Yojana to people who already had one or two houses. "I found that the deserving ones were ignored and people who were well-to-do had been issued houses under IAY," Bedar said.
"I did not go to door to door to ask for votes. I just asked people to vote for the person who they feel would work for them," He added.
He would like to contribute towards the preservation of the Hygam wetland that is home to lakhs of migratory birds during winter but has been largely neglected by the government.
Asha has been feted after she became the first woman from the Kashmiri Pandit community to be elected Sarpanch of her predominantly Muslim village. Although she won by just 11 votes, she could win only because a large number of Muslims reposed faith in her and voted against her rival from their own community.
A resident of Wussan village in Kunzar block, her victory moved the Chief Minister to tweet that Kashmiriyat was, after all, alive and kicking. Her priority, she says, is to motivate other members of her community to return. "If people (Kashmiri Pandits) think that the situation in Kashmir valley is not conducive, then my victory in a Muslim dominated village should act as an eye-opener for them and they should consider returning to their village," she said.
Bikram Singh is one of the three Sikhs to have been elected as Sarpanch in the district of Budgam. " My opponents tried to play the communal card but did not succeed," recalls Singh. The 42 year old is pained to find that the village , where he was born and brought up, continues to have only one school, that was constructed in 1942 and has been upgraded to the level of Middle School in all these years. That is what prompted him to contest the election, he says. The other priority of his would be to ensure that payments under MGNREGA are paid directly to the people and not through middlemen.
Arshad Ahmed ( 26) is studying through distance education and works as a contractor to make both ends meet. He is one of the youngest Sarpanches elected this time. The earnest youngster has been busy consulting people, including his rivals who opposed him and people who voted against him. " I ant to make use of their experience and take them all so that we can work together," he says simply.
Rabinder Singh Binder, brother-in-law of Ravinder Kaur , the first woman in Punjab used as a human bomb, and brother of another militant said to be hiding in Pakistan, says he wants to remove the blot of militancy from his village. Hindus hosted him in temples this time , indicating that the wounds have healed and the two communities can live and prosper together.
" The Sikhs in Jammu suffered a lot during militancy. Simbal village was synonymous with militancy but it only brought miseries. I now believe only democracy and development are answers to militancy," he said. His priority is to make his panchayat 'modern'.
Khalid Bashir alias Papu Mughal (PM), a former militant , has been elected the Sarpanch of Chanote Panchayat in Bhaderwah. He was a self-styled commander of the militant outfit Hizbul Mujahideen (HM). But he said, "I have realised that democracy is the best way to serve the people."
"In my panchayat 73 per cent of the voters are Hindus and it is all due to their love and affection that I have won," he said. "My Hindu brethren rejected all other candidates and reposed faith in me," said an overwhelmed PM. He wants to make Bhaderwah a favoured tourist destination.
Parikshit Singh, a B. Tech , is now the Sarpanch of Bhugtrian Panchayat of Udhampur. He left his job of an engineer in the Rural Development Department (RDD) to join grass root level politics.
"What is the point of your education and job when you cannot bring changes in your own vicinity", he exclaimed.
On the very first day of his election as Sarpanch, he sat on a dharna demanding basic amenities for inhabitants of Bhugtrian Panchayat. "My agenda is clear. I left a government job and I wouldn't hesitate to take extreme steps to get problems of our areas solved," he added. He strongly feels that salaries must be fixed for elected Panchayat members to keep a check on corruption in local self government.
Gurmeet Singh Bajwa, whose father is an influential politician and a former Rajya Sabha Member, left his Corporate job to plunge into politics. "Despite hailing from a border village of Kang, I had the means to study and went abroad to secure my MBA. But it is not available to all. Panchayat election has given me a window of opportunity to realise my dream."
He has decided to constitute groups of youth in all villages under his Panchayat to monitor developmental works in their areas to ensure proper utilisation of government resources. His current dream is to convert his village into a 'model village'.
Kanchan Thakur is yet another Hindu who won from a Muslim majority area in Rajouri. Militants had killed eight members of her family in 1997. Unmarried at that time, she had vowed to fight them through the ballot. A Muslim candidate, Mohammad Hafiz, withdrew in her favour.
Bimla Devi's election as Sarpanch from Ghagwal in Kathua district came as a surprise to many because she had entered the fray in the eleventh hour, prompted by a group of women colleagues. An employee with the Public Health Engineering Department, she wants to address women's issues.
Shafiq Mir, a prolific freelance writer and journalist, has been elected Sarpanch of village Bafliaz in Poonch district. An articulate activist, his eloquence moved former Panchayati Raj Minister Mani Shankar Aiyar to commend him.
"Even today my village is without electricity, medical facility, road and telephone connectivity," he points out.
( With inputs from Dinesh Manhotra and Ravi Krishnan Khajuria)