Mohali residents have had enough of BSNL
Mohali, June 19
The "efficiency" of the Punjab circle of the Bharat Sanchar Nigam Limited (BSNL) is proving dear to hundreds of subscribers in Mohali.
Zookeeper suspended, 3 others served notice
Chhat (Banur), June 19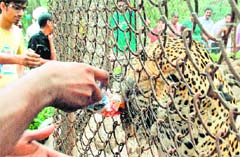 Following a news report in these columns about a caged leopard being teased by some visitors, who forced it to consume liquor, the forest department today suspended a zookeeper and served notices on three others.




Animal drink? A leopard being offered a liquor-laced drink at the Chhat Bir zoo, near Zirakpur. Tribune photo: Nitin Mittal



What a waste!

Wastage of water goes unchecked near Sohi Banquet Hall in Zirakpur.
Tribune photo: Nitin Mittal

Strange bedfellows

A stray dog is seen sleeping under the same bench where a patient is also lying at the CT scan and X-ray department of the Government Multi-Speciality Hospital in Sector 16, Chandigarh. Tribune photo: Vinay Malik
PGI struggles to cope with rising patient load
Chandigarh, June 19
Inder, a patient referred to the PGI from Patiala, holds a chest drain bag to collect blood oozing from his lungs as he waits in an ambulance outside the hospital's emergency ward while his relatives attending him frantically search for a trolley to wheel him in. Much to their anguish the security guards at the ward entrance suggest they wait as hospital attendants have gone to locate a trolley.




Adding to their woes Attendants of out-of-town patients wait outside the emergency ward at the PGI, Chandigarh. Tribune photo: Manoj
India lacks quality diagnostic mycology laboratories: Experts
Chandigarh, June 19
There are very few good diagnostic mycology laboratories in the country even as there has been a rise in fungal infections among terminally-ill patients in hospitals, felt experts during a national training course on fungal infections at the PGI here yesterday.
Exercise can cure menstrual pain, says study
Chandigarh, June 19
Exercising and using hot-water bottle can help cure menstrual pain and distress.
Surgery of varicose veins through laser
Chandigarh, June 19
Five years after running a special foot care clinic for patients suffering from diabetes, Government Medical College and Hospital (GMCH), Sector 32, is all set to introduce more facilities, including vascular intravention and surgery of varicose veins through laser technique.
200 points identified for new road signage
Mohali, June 19
For the convenience of the road users, the Greater Mohali Area Development Authority (GMADA) has initiated work on its ambitious plan to put up new informative road signage on all road intersections and entry points to the city.
GMADA mulls using land under other departments
Mohali, June 19
To provide basic amenities in different sectors, the Greater Mohali Area Development Authority (GMADA) is contemplating to utilise around 16 acres in possession of other departments like the Punjab water supply and sewerage department and the Punjab State Power Corporation Ltd (PSPCL). The issue came up for discussion during a recent meeting of the executive of GMADA.
MC oversees monsoon preparation
Chandigarh, June 19
MC Commissioner Prerna Puri carried out an inspection to oversee the work on cleaning up of road gullies and other pre-monsoon preparedness in Sectors 16, 24, 37, 38, Dakshin Marg, Dadu Majra Rehabilitation Colony.
Cong delegates' conference at Tagore Theatre
Chandigarh, June 19 The Chandigarh Territorial Congress Party organised a "delegates' conference" at the Tagore Theatre in Sector 18.
Mohali SCAN
Panchkula SCAN
'Why wait for an accident to repair manholes?'
From the past more than a decade we have been reading about the increasing load on the existing water pipelines in the city to clear rain water. Besides announcements, nothing seems to have been done so far. Even a minor rain leads to standing water on the roads particularly around the corners.


Lack of coordination

The newly constructed slip road closed for commuters as authorities did not cut six trees before the construction of the road at Sector 52 in Chandigarh. Tribune photo: Parvesh Chauhan

Waiting in the sun

Endless Wait Commuters were harassed as they had to wait for their bus for about one hour on the road separating Phases IIIB1 and IIIB2 in Mohali on Sunday. Tribune photo: Vicky Gharu
Industrial waste polluting Ghaggar
Dera Bassi, June 19
After the environmental degradation of 'choes' (streams) and drains in the Dera Bassi and Lalru areas it is the turn of the Ghaggar river getting increasingly polluted due to the discharge of waste of nearby towns and industries. The river water now cannot be used for even by even animals to quench their thirst or for irrigation of crops.
Training camp on disaster management
Patiala, June 19
The Society for Peoples' Welfare and Awareness Patiala (SPWAP), an NGO, will be organising a three-day free training camp on disaster management from June 27 at BN Khalsa School.
Three-day young architects festival
Chandigarh, June 19
The Indian Institute of Architects (IIA), Chandigarh, will host a three-day "Young Architects Festival" from October 14.
Labourer falls to death
Zirakpur, June 19
Suresh, a 40-year-old labourer, was killed after he fell from a building under construction at Peermuchalla here last night.


Panjab University's expanding profile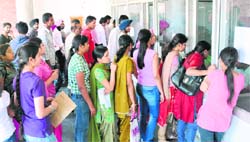 Chandigarh, June 19
With a significant shift in its profile from being an institute for solely postgraduate studies, nearly 1,410 Class XII passouts are now seeking admission to "professional graduation level courses" offered by Panjab University each year.

Students line up to buy admission forms at Panjab University in Chandigarh. Tribune photo: Manoj Mahajan
Once is enough, say PU authorities
Chandigarh, June 19
With a considerable increase in the number of students enrolled in various courses at Panjab University and availability of limited hostel seats, those opting for a second masters degree course will not get a hostel seat this year.