PUNJAB

HARYANA

JAMMU & KASHMIR

HIMACHAL

REGIONAL BRIEFS

NATION

OPINIONS

LETTERS

BUSINESS

SPORTS

WORLD


State ahead in per capita milk availability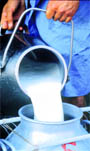 Chandigarh, June 20
The per capita per day availability of milk in Haryana has increased to 680 g as compared to the national average of 258 g. According to a spokesman for the Haryana Animal Husbandry and Dairying Department, milk production in the state has increased to 62.67 lakh tonne as a result of the efforts being made by the government for the development of livestock.
Religious gurus, villagers join hands to save Markanda
Ambala, June 20
The existence of the Markanda river, popularly known as Haryanavi Ganga, is in danger following the inflow of contaminated discharge and effluent of various chemical factories located in the Kala Amb area close to Naraingarh. While efforts of the Pollution Control Department to maintain sanctity of the river have failed, religious gurus and the general public have joined their hands to save it.
Multi-speciality hospital only in name
June 17, 2011
Ignoring UGC rules on VCs' appointments, Haryana style
June 14, 2011
Sirsa, Ambala take lead
June 7, 2011
Bahadurgarh units ignoring fire safety norms
June 3, 2011
Barwala becomes subdivision
May 31, 2011
State fares badly
May 27, 2011
Workers welfare board off target
May 24, 2011
Independents hold the key
May 20, 2011
Sanitation campaign now a mission
May 17, 2011