PUDA Complex in a shambles
Tribune News Service
Jalandhar, June 23
Potholed roads, fluctuating (and dysfunctional lights), loads of sludge in the rains and junk dumped by junk dealers. This is the story of the PUDA Complex situated opposite the suvidha centre on the Ladowali Road.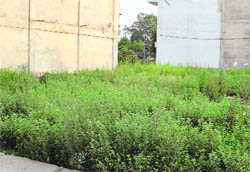 Wild growth in the complex. A Tribune photo
A complex brimming over with business activity, the potholed roads cause extreme inconvenience to commuters while the junkyard and flickering (often non-functional) lights threaten the safety of employees in the night.
Ashish, area manager with an insurance company operating from the complex, says, "The roads pose a huge problem to us. I commute on a bike and due to the roads there is extreme difficulty in travelling. The problem is aggravated during the rains. Water standing on the entry point ensures that we spend a miserable rainy season."
Paramjit Singh, who works with a finance company operating from the complex, says, "It's a lot of problem. I turn around and usually come through the main road because the complex is so inconvenient to drive on. The roads are bad, there are piles of pebbles and it's a lot of bad news for the tyres of my vehicle. I would breathe easy if the problems get fixed."
Ravi Sharma, resident of a locality near Ladowali Road, who is a regular visitor to the complex, says, "PUDA has totally ignored the entire area. While the dilapidated state of the road itself creates problems, the two mini parks located in the complex are also ill maintained. Junk dealers use the complex to dump their junk giving it an unpleasant look and causing inconvenience."
Simran Kaur of Arjun Nagar says, "I along with my mother come for an evening walk in the area at times but it seems unsafe due to dysfunctional lights. The unkempt paths also pose a danger, especially during rainy season."
Harbir Singh, Additional Chief Administrator, PUDA, says, "I have talked to the SE about the lights. He will take a look at the area and provide me with a time schedule for the repairs."
However, he doesn't provide any set time for the road repairs. "We undertake road repairs as per a set time period. Government has its own specifications and time plans. The work will take place at a given time."
About the junkyard, he says, "We have talked to the Commissioner of Police and the Mayor regarding the problem. Ads were given in newspapers and junk dealers were issued notices to pick up their stuff. While some of them have denied that the junk is their, some have given to us in writing that they will not dump stuff. Hopefully the problem will be fixed soon."