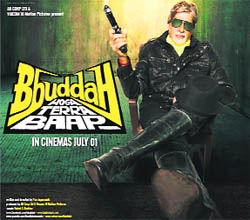 Amitabh Bachchan is super excited for his upcoming film Bbuddah-Hoga Terra Baap. The superstar is on a promotion blitzkrieg to make sure that he creates maximum hype and hoopla around his film!
The dialogues are generating a buzz already and now Big B seems to be taking TV promotions to a whole new level. Word is that the legend will be dubbing the new promo of 'Bbuddah Hoga Terra Baap' in not one, not two but in five different languages!'
Never been attempted by a Bollywood star before, Amitabh will be recording a special promo of the film in English, Hindi, Marathi, Gujarati, Bhojpuri and Bengali! For example, in the Marathi promo, the star will be saying on screen, '1 July la…mee yet aahe…..Bbuddah Hoga Terra Baap'. 
Mr Bachchan, known to be good with several Indian languages, has often displayed his linguistic skills on Twitter where he frequently greets fans from across the country in their local languages. Taking cue from this, the producers AB Corp & Viacom18 came up with the idea of recording a promo in multiple Indian languages to cater to varied audiences across India.
Well, when it comes to promoting his film, Mr Bachchan has once again proved that this 'Bbuddah' is everyone's 'Baap'!
Re-ignited
Shah Rukh Khan is very keen on doing '2 States' with Vishal Bhardwaj. They were unable to find a heroine so he has zeroed in on Priyanka Chopra. The Bareilly girl needs to work on her accent and make it South-Indian. Earlier, he had problems with the casting of PC but now he wants her back in the film that will go on the floor next year.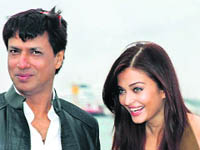 Wait begins:

Madhur Bhandarkar with Aishwarya Rai Bachchan
Madhur Bhandarkar may stall the shooting of Heroine indefinitely because Ash has become pregnant. She was supposed to lose weight as the shooting progressed but that is not possible now. He had a meeting with UTV and the shooting is most likely to be stalled. Looks like the film is jinxed! Watch this space for more updates.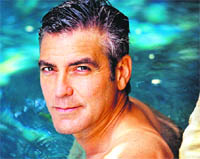 Hollywood star George Clooney and girlfriend Elisabetta Canalis have parted ways after dating for over a year. The 50-year-old actor, who has previously dated British beauty Lisa Snowdon and was married to actress Talia Balsam for four years, has released a joint statement with Canalis confirming the split. "We are not together anymore. We can't say we didn't see this coming. It's very difficult and very personal, and we hope everyone can respect our privacy," they said in the statement.


Hot & available:

George Clooney

The 32-year-old Italian actress and model recently said she had no plans to live the bachelorette life forever and knew that she wanted to be married at some point, a revelation that most likely sent Clooney, who has vowed to never marry again, running. After more than a year together, the couple was last seen together last month as they celebrated Clooney's 50th birthday. — PTI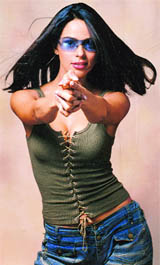 President's girl:

Mallika Sherawat
This one never misses a golden chance. After getting clicked with US President Barack Obama, Indian actress Mallika Sherawat was seen in conversation with Ontario Premier Dalton McGuinty at the International Indian Film Academy (IIFA) extravaganza.
The actress, who has made a name for herself in the international press thanks to her appearance with Jackie Chan at the Cannes International Film Festival for the Chinese film "The Myth", is here for the premiere of her forthcoming movie "Double Dhamaal" and to promote her international project "Politics of Love".
"This is my first time at the IIFA awards. I just want to enjoy and have a great time," said Mallika, who will also groove to Bollywood tracks at the awards night on Saturday.
Unusually dressed in a sari, with a simple blouse, Mallika was among a host of Bollywood celebrities like Anil Kapoor, Dia Mirza, Bipasha Basu, Boman Irani, Riteish Deshmukh, Anupam Kher, Subhash Ghai, Satish Kaushik and Sonu Niigaam, who were invited on stage for the inaugural press conference for the three-day IIFA Weekend and Awards. While all the actors moved down the stage, Mallika chose to stay on and engaged the Premier in some animated conversation, inviting several clicks from the paparazzi in the bargain. Surprisingly, this was the same Mallika, who was hiding away from the media, and refused to talk to mediapersons at a midnight market here on Wednesday night. "Mallika was throwing a lot of tantrums. She refused to speak to the media, and took trolleys full of clothes to try at The Bay (a store) so that she could avoid the media," a source said. And apparently, she was "jetlagged" after a flight from Los Angeles to Toronto! — IANS
Demi documents Nepal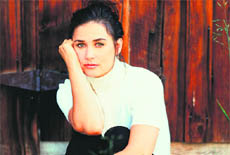 Conscientious beauty: Demi Moore
Hollywood star Demi Moore has filmed a documentary in Nepal to raise awareness about human trafficking in the country.
Moore (48), an outspoken activist against slavery and trafficking, has teamed up with husband Ashton Kutcher to form Demi and Ashton (DNA) Foundation which aims to stop the practice. For the documentary, Moore visited last year's CNN Hero of the Year, Anuradha Koirala, to discuss how she was helping women who have been forced into prostitution. The documentary is titled "Nepal's Stolen Children".
In the TV special, which was made in partnership with the CNN Freedom Project, the actress meets a number of victims of trafficking. The programme is due for a worldwide premiere. — PTI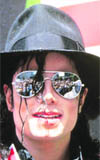 Singer Jermaine Jackson says Bollywood has been an inspiration ever since he and his brothers began their musical journey with the pop group 'The Jackson 5' during the seventies.
The 56-year-old brother of 'King of Pop' Michael Jackson was here to attend the International Indian Film Academy (IIFA) and said the song and dance in Hindi films has been entertaining them over the years.
"We have been entertained by Bollywood since we came to California and started Jackson 5. Its costumes and dances have always inspired us. Hence, coming for IIFA and being part of it is a dream come true," Jermaine said.
The singer will perform with Sonu Nigam at the IIFA awards function on Saturday to mark Michael's second death anniversary. Beginning with 'Can You Feel It', Jermaine will be singing Sonu's composition of 'This Is It' as a tribute to the pop icon. "It is a song that I had composed a year-and-a-half ago and Jermaine was kind enough to be part of it," Sonu said, adding that the second performance will be a mix of two genres of rock and qawwali. — PTI
Sallu not fond of desi girl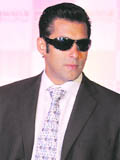 Salman Khan gets along fabulously with his Bodyguard co-star Kareena Kapoor but he is not too fond of Priyanka Chopra. He has said Bebo is the original 'desi girl'. Priyanka is one with the hit song of the same name. What will she say to this?
Iran-bound
Director Kabir Khan has a penchant for dangerous locations. After shooting Kabul Express in the war-torn Afghanistan a few years ago, he will now shoot Ek Tha Tiger in Iraq. He is going there in a few days to scout for locations. Salman is eager to go to the new location. Ek Tha Tiger will be the first Hindi film to be shot there.